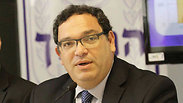 Education Minister Shai Piron. Even Maimonides spoke and wrote in Arabic
Photo: Ido Erez
The Middle East is raging and roaring, negotiations are being held between Israel and the Palestinians, a conference is convening in Montreux, Switzerland in a bid to end the civil war in Syria. Despite all that, the State of Israel's education minister believes it's time to cut Arabic language studies, which are limited as it is.

This is a unique disgraceful phenomenon, a failure which has been taking place for so many years: In a country which has 1.6 million Arab residents (20% of the State's population) and which is surrounded by more than 250 million Arabs, Arabic language studies are not mandatory for an actual matriculation certificate.

Holocaust Education

Museum at site of former Nazi German death camp in southern Poland says We wants to address groups of people who often have little knowledge of Holocaust or who even advocate revisionist views

In a normal situation, Arabic studies would have been mandatory until the 12th grade like English, but the Arabic instruction issue is particularly sensitive because it has to do with political issues. When the majority of Israeli students graduate from high school without knowing the most common language in the region, what is the solution?

There is quite a lot of logic in the Education Ministry's policy to make things easier for students, to turn the learning environment into a positive experience for the student instead of a "factory of grades." But when it comes to the Arabic language, we must act carefully, creatively and wisely.

Harming Arabic studies means harming the very important chances of a dialogue between the Jewish and Arab populations in the State of Israel. Cutting Arabic means cutting the number of intelligence people in charge of the IDF's warning system. In other words, abandoning the State of Israel's security.
Taking the wind out of the sails
As a veteran teacher who meets with Arabic teachers, the shared feeling is of a drop in the status of the subject and ongoing disregard of its importance. Junior high school teachers put in a lot of effort and are doing a divine service in preparing their students for Arabic studies in high school, but most students choose not to pursue the subject. And so huge education budgets go down the drain, as Israel's students forget the language by the time they reach the 12th grade.

On the matter of the Arabic subject in the 10th grade, like on many other matters of education, the choice cannot be left in the hands of the student. May a high school student choose whether to continue studying Hebrew and English? After all, Arabic is also an official language in the State of Israel. But the education minister is continuing the same policy, according to which a student can put down her complaints against teachers in a matriculation exam in literature and even receive compliments for it.

The general attack on humanities is reflected in a proposal raised recently to cancel the matriculation exams in history and literature, subjects which are so important in forming the national identity and value system. In fact, a group of second-class subjects is being shaped during Shai Piron's term. After all, there is no way they will cut exact sciences studies, which may halt the progress of the high-tech power.

The education minister must first and foremost represent the public of teachers and know that most of them, not just the Arabic teachers, are experiencing serious distress. First of all, they feel hurt since the implementation of the humiliating reform which keeps them in the school for more than an extra 10 hours in return for a tiny addition to their salary.

This reform hit them like a thunderbolt, violating their rights and their employment terms, and was brought about without any consultation by the teachers' organizations. The teachers have no democratic ability to choose whether they wish to join the reform or not. This oppression is now being joined by a wave of "concessions" to the students in a bid to please them, while harming the teaching subjects, especially in humanities.

The Arabic subject desperately needs to be encouraged, not cut down. Reducing Arabic courses will not only to harm the IDF intelligence and the chances of a dialogue with the Arab world, but will also cause the multi-year heritage of oriental Jews to be erased. Until recently, the latter spoke Arabic and were familiar with the Arab culture and poetry, and the State of Israel failed to develop and advance their heritage. The Intelligence Corps was the only place which understood oriental Jews' major contribution to gaining knowledge about the Arab world.

The education minister surely knows that the greatest rabbis of the Middle Ages, including Maimonides, spoke and wrote in Arabic and acknowledged its importance as the regional language. Students exposed to this language understand that it represents a very rich culture and that our neighbors should not be disregarded in any way. The political opinions of the students and of the decision makers in the Education Ministry should have no effect.

Some students study Arabic in order to get closer to the Arab population, while others are interested in getting to know it as the "enemy's language" in order to gain an advantage over the enemy. The Arabic language is the bridge to peace, and to the same extent it is a weapon just like the tank and plane.

If the education minister is interested in making things easier for the students without harming the teachers and the Arabic language, he holds a solution which is "the lesser of two evils" and will certainly receive the support – and perhaps even the budgets – of the Defense Ministry: Before moving up to the ninth grade, Israel's students will be able to choose whether they would like to pursue an Arabic course of study, which includes literary Arabic and Arab culture studies. But spoken Arabic studies will be mandatory even the in 11th and 12th grades.

These studies will be spiced with Arabic poetry, proverbs and culture, and at the end of the year students will be required to hold a basic conversation in Arabic in the local dialect. In order not to forget what they studied in junior high school (basic grammar and the letters), the classes will also dedicate a few minutes to reading. The spoken Arabic can also be leveraged to initiate meetings between Jews and Arabs in a bid to strengthen the shaky ties between the two parts of the population in Israel.

In a Middle East where every day is unexpected, knowing the Arabic language is a basic condition for Israel's communication with its neighbors. The Arab revolutions have stirred things up in the Middle East, and Israel can find itself negotiating with Arab countries which have not even recognized Israel until now. Today's Arabic students are tomorrow's diplomat. We must invest in them!

Dr. Yaron Friedman, Ynet's commentator on the Arab world, is a graduate of the Sorbonne. He teaches Arabic and lectures about Islam at the Technion, at Beit Hagefen and at the Galilee Academic College. His book, "The Nusayri Alawis: An Introduction to the Religion, History and Identity of the Leading Minority in Syria," was published in 2010 by Brill-Leiden