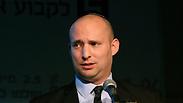 Habayit Hayehudi Chairman Naftali Bennet
Photo: Aner Green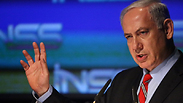 Prime Minister Benjamin Netanyahu
Photo: Motti Kimchi
Netanyahu issues ultimatum to Bennett; economy minister fudges apology
The prime minister and the Habayit Hayehudi leader have been at one other's throats since PMO said settlers should be allowed to stay in future Palestinian state. Now the rift has reached new heights, with PMO branding Bennett 'insolent', demanding apology
Prime Minister Benjamin Netanyahu's rift with his senior coalition partner, Economy Minister and Habayit Hayehudi chairman Naftali Bennett, over the future of the settlements hit a new high Wednesday. The two have been publicly rowing over policy, a dispute triggered by reports that Netanyahu believes there is no reason for a future Palestinian state to be free of Israeli settlers.
Netanyahu spoke with senior Likud members Wednesday, telling those gathered that he expected Economy Minister Naftali Bennett to apologize for the remarks he made at a security conference earlier in the week, when the economy minister insisted that "Israelis can't live under Palestinian rule... because the Palestinians would kill them."
After Bennett's remarks, Netanyahu stressed that he would fire the minister if he did not apologize. The prime minister noted that the apology would have to be published before the beginning of the next cabinet meeting – Sunday at 10 am.
"Bennett received a clear message. He must clearly and unequivocally apologize, otherwise there will be a price to pay," the Prime Minister's Office said in response to Bennett's comments, adding that "Netanyahu has alternatives; a government without Bennett will continue to work to secure Israel just as it did in the previous government. No one will lecture Netanyahu about patriotism and defending Israel. After all his grievances, it is unclear why Bennett remains stuck to his government seat."
Related stories:
On Wednesday, the row worsened, with the PMO issuing what seemed to be an ultimatum to Bennett: "His insolent behavior and his reckless style will not pass quietly. This behavior hurts the settlements. If he doesn't apologize he will threaten the current coalition formation."
As a result, Bennett issued a statement in which he said: "If the prime minister was hurt, I am definitely saddened by that."
According to Bennett, "There are sources that are trying to turn a fundamental debate about the future of our country and our safety to a personal attack that wasn't intended."
The economy minister emphasized: "I respect Prime Minister Benjamin Netanyahu and his leadership under complicated conditions. I support him when needed and criticize him as needed; this is my duty."
Bennett then reiterated the position that initially irritated Netanyahu, saying that "Imposing Palestinian sovereignty on Israeli citizens is dangerous, and it is my obligation to drop this idea from the agenda, and now the idea is gone."
Sources in Bennett's inner circle said Wednesday that the dispute between the two has spun out of control, but there is no intention to push the rift to its breaking point.
Uri Ariel, a minister from Habayit Hayehudi, tried Wednesday to mediate between the two sides to calm tensions down. He spoke with senior Likud members, as well as with Bennett and Ayelet Shaked. Ariel warned that this confrontation may get out of hand.
Senior members of the Likud told Ynet that Netanyahu had every intention to fire Bennett.
"Bennett's biggest mistake was attacking Netanyahu personally, since he could have won points with the Right without creating the crisis in which he was forced to fold," a source with the Likud said.
'Bennett is lying to the public'
Opposition leader Isaac Herzog commented on the rift between Netanyahu and Bennett, saying: "What does Bennett have to offer other than words of incitement? Mister economy minister, the vision of Bennett is the vision of the bi-national state."
Referring to Bennett, he said: "You are lying to the public."
The Labor chairman stressed that "the truth must be said once and for all – it's more dangerous for Israel to remain in a diplomatic stalemate and keep the territories than it is to part from the Palestinians. We are persistently growing closer to the point of no return."
"At the moment there are over two million Palestinians living in the West bank. They will not disappear; they will not leave. If we don't part with them they will end up as citizens of Israel. The State of Israel will not be able to stand such a move – not financially, not socially, and not politically. This is not a theoretical debate – it's a reality that could be inseparable from the future of the State of Israel."
He added that following speeches by defense Minister Moshe Ya'alon, Economy Minister Naftali Bennett, and others, his only conclusion was that "the Right has no vision, and has no idea where Israel will be ten years from now," saying that Bennett and his supporters are "the true threat… to the Jewish State."
Attila Somfalvi, Yuval Karni, Reuven Weiss and Itamar Eichner contributed to this report