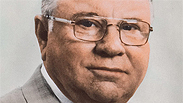 Croatian prosecutors said Thursday they had opened a war crimes investigation into a man suspected of having been a guard in several Nazi concentration camps during World War II.

German authorities have confirmed the identity of the man who is living in Croatia, said a statement from the state attorney's office.

Local media named the suspect as 90-year-old Jakob Frank Denzinger, who was a guard in several Nazi concentration camps including the notorious Auschwitz-Birkenau, where one million Jews were killed between 1940 and 1945.

Related stories:

He has been living in the eastern Croatian town of Osijek for years, the same region where he was born and served in Hitler's notorious Waffen-SS, according to the daily Vecernji List.

Denzinger lived in the United States until 1989 when judicial proceedings were launched to strip him of his US citizenship due to his Nazi past, the paper said.

He then reportedly fled to Croatia.

His name figures on a list of some 60 people compiled by special German prosecutors in charge of investigating Nazi war crimes, the Jutarnji List daily reported.

Croatian prosecutors have asked Germany as well as the United States and the Nazi-hunting Simon Wiesenthal Centre, for documents that could implicate him in war crimes.