אנגלה מרקל תאונת סקי קביים
Photo: AFP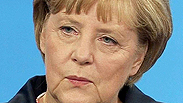 קנצלרית גרמניה אנגלה מרקל עימות טלוויזיה נגד המועמד הסוציאל דמוקרטי פר שטיינברוק
Photo: AP
German Chancellor Angela Merkel will travel to Israel for bilateral talks at the end of February, accompanied by a number of her ministers, a spokesperson said on Friday.

The visit will take place February 24 and 25, spokesperson Georg Streiter told a regular news briefing, without revealing a detailed agenda.

Germany and Israel have held regular "government consultations" since 2008, an arrangement where the two sides meet at regular intervals to discuss specific topics.

This will be the fifth such meeting between Germany and Israel. The last one was held in Berlin in December 2012.