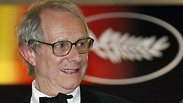 German Jews say Ken Loach 'belongs to the worst type of anti-Semites'
Photo: Reuters
BERLIN – Germany's Jewish community has strongly criticized a decision to award British director Ken Loach, one of the most prominent activists of the cultural and academic boycott movement against Israel, an honorary prize at the Berlin International Film Festival, also known as Berlinale.

In recent years, Loach has applied heavy personal pressure on major film festivals around the world to cancel any event which is even partially funded by the State of Israel, basically calling for an economic boycott against the Jewish state.

Message of Warning

British film director visits West Bank for first time, says shocked by 'brutal and harsh reality of the wall'

He slammed the Toronto International Film Festival for presenting films dedicated to Tel Aviv, claiming that it was cooperating with "Zionist propaganda." After the IDF's Operation Cast Lead in Gaza in the winter of 2008-2009, Loach said Israel was responsible for creating anti-Semitic sentiments because of its actions.

"Loach belongs to the worst type of anti-Semites, as he is making anti-Semitism acceptable among the circles of intelligence," says a senior source in Germany's Jewish community. "He is not just another skinhead we can ignore, claiming that he anyway doesn't know what he's talking about, but a person who is regarded highly among elite circles for his cinematic work.

"He uses this esteem to distribute anti-Semitic ideas and promote a boycott of Israeli artists with all his energy. It is unthinkable that such a prestigious German film festival would legitimize Loach's ideas and award him with a special prize."

Berlinale director Dieter Kosslick said in the statement announcing the decision to award the 77-year-old filmmaker the Honorary Golden Bear for lifetime achievement that "Ken Loach is one of Europe's great directors…. His profound interest in people and their individual fates, as well as his critical commitment to society have found expression in a variety of cinematic approaches.

"We are honoring Ken Loach as a director and greatly admire him for how he reflects on social injustices with humor in his films."
Limited Israeli presence
Last year, the Berlin Film Festival screened a Palestinian film which, according to its creators, was "produced under all the rules of the international boycott movement against Israel."

Israel's presence at this year's festival, which opens on Thursday, will be very limited. Producers of Israeli films which had been accepted into the festival cancelled their participation at the last moment, preferring to have their movies debut in Cannes.

In the official press conference presenting the Berlin festival's program, its managers explained Israeli filmmakers' limited presence this year, stating that 2013 was not a very good year for Israeli cinema.

Berlinale is considered one of the three most important international film festivals alongside the Venice and Cannes festivals, but criticism over its quality under Kosslick's direction has been growing in recent years.