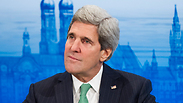 Prime Minister Benjamin Netanyahu hit back at Secretary of State John Kerry on Sunday, over the top American diplomat's warning of further sanctions against Israel should the current peace talks with the Palestinians fail.
Kerry, speaking at an international security conference in Munich, said Saturday that Israel's security would be "illusionary" and "momentary" should the US-led negotiations come to nothing.
But at the start of his weekly government meeting Sunday, Netanyahu dismissed Kerry's statements as irrelevant.
"The attempts to boycott the State of Israel are not moral or justified," Netanyahu said. "Moreover, they will not achieve their purpose. Firstly, they only serve to make the Palestinians become more entrenched in their stance of refusal. Secondly, no pressure will make me abandon the State of Israel's vital interests, of which security of the civilian population is foremost."
Related stories:
During his speech to the conference, Kerry warned Saturday that the status quo between Israel and the Palestinians was unsustainable. While there is prosperity and momentary security in Israel, he said, it is an illusion that is bound to change if talks flounder.
"The risks are very high for Israel. People are talking about boycott. That will intensify in the case of failure. We all have a strong interest in this conflict resolution," Kerry said. "Today's status quo absolutely, to a certainty, I promise you 100 percent, cannot be maintained. It's not sustainable. It's illusionary. There's a momentary prosperity, there's a momentary peace."
Indignant ministers
Minister of Strategic Affairs Yuval Steinitz also criticized Kerry's comments on Sunday, saying the American politician's words were "offensive, unfair and intolerable."
"You can't force the State of Israel to negotiate with a gun to our heads while we are discussing the most criticial of our national security interests." he said.
Steinitz said Kerry's comments in Munich could harm the chances of reaching an agreement with the Palestinians. "If the Palestinians hear that Israel will more or less be destroyed in the event of failure in the negotiations it will only encourage them to try and tear down the peace process."
The minister further said Israel is in the midst of formulating a plan for a "smart struggle," as he called it, against international delegitimization of Israel and calls for boycotts. According to him, the crux of the plan is to implement hasbara (pro-Israeli public advocacy) and deploy pro-Israeli groups worldwide.
Economy Minister Naftali Bennett said in response Saturday that all "the advice givers" should know that Israel will not abandon its land because of economic threats.
"We expect our friends around the world to stand beside us, against anti-Semitic boycott efforts targeting Israel, and not for them to be their amplifier," he said, in a clear barb. "Only security will bring economic stability, not a terrorist state next to Ben-Gurion Airport."
Chief negotiator and Justice Minister Tzipi Livni came to Kerry's defense, saying he was merely expressing concern for Israel's future.
Warnings made by Kerry regarding imminent boycotts against Israel remind the diplomatic sphere of one of its most challenging threats.
Scandinavian banks have already added Israeli companies that operate beyond the Green Line to a list of businesses that should not be traded with, and against the backdrop of this blacklisting, a Foreign Ministry official admitted that "we cannot prevent this phenomenon."
The Foreign Ministry in Jerusalem is closely following developments in Europe, claiming that Israeli diplomacy has limited tools to deal with commercial firms that choose to sever ties with Israeli entities.