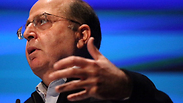 Moshe Ya'alon
Photo: Motti Kimchi
"I hope we can reach an agreement with the Palestinians. If not, we'll manage," Defense Minister Moshe Ya'alon concluded the recent developments in the negotiations on Sunday.
Under the threat of boycott against Israel and the American initiative to compensate Arab Jews, Ya'alon brought about another piece in the Middle East puzzle, noting that Israel and the Mideast's Sunni-Arab camp, led by Saudi Arabia, share many interests and common enemies, such as Iran, Shiites, radical Islam and al-Qaeda .
Related stories:
Contrary to the years-long tradition in which Israeli leaders ostentatiously left conferences and events in which Iranian officials spoke, Defense Minister Ya'alon stayed in the Munich security conference plenary hall as Iranian Foreign Minister Mohammad Javad Zarif addressed the conference and spoke about the situation in his country.
Ya'alon even took a seat in the front row and listened to the top Iranian minister, as he was invited to address the conference immediately after the debate on Iran.
Despite the alleged gesture, Ya'alon made clear in his remarks that Israel sees Iran as an enemy shared with more moderate Arab states. In the past, as well as in this event, representatives from Middle Eastern countries, even those who hold ties with Israel, avoided publicly appearing with Israeli officials in any one of the Munich conference's panels.
Ya'alon stressed in his speech that "I support the negotiations, I support any political engagement, but we should tell the truth to ourselves and not delude ourselves and to deceive ourselves regarding President Mahmoud Abbas ' intentions," who he claims is "running away" as Yasser Arafat did during the 2000 Camp David Summit.
He further emphasized that Abbas was forced to join the negotiations table by US Secretary of State John Kerry and refuses to answer basic questions regarding the recognition of Israel as a Jewish state and the matter of right of return.
According to him, "settlements are not the obstacle to peace. The settlements include today less than 5% of the territory in the Palestinian arena. If we are going for peace – we have Arabs living side by side with us in Galilee and Jaffa and Acre – we don't deny this right.
"Why does the Palestinian leadership insist on getting the territory without Jews? If we have to live together, we can benefit from each other."