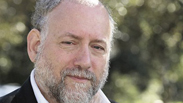 Barry Rubin
Photo: JPmedia
American-born Israeli academic Barry Rubin, who made a name for himself for his expertise in Middle East politics, has passed away at the age of 64, after what is believed to have been an 18-month battle with cancer.
A message posted Monday on his Facebook read: "To our great sadness, Barry Rubin passed away this morning. He was surrounded by his wife and children. Your love, support, and prayers have been greatly appreciated. There will be shiva and a funeral, details to follow soon."
The last entry on his own blog, the Rubin Report, was on January 21, when he highlighted the dichotomy between the message about Israel taught in the Arab world and the way the country is viewed by those in power.
Rubin was the director of the Global Research in International Affairs (GLORIA) Center at the Interdisciplinary Center in Herzliya.
He was also the editor of the institute's Middle East Review of International Affairs, or Meria. He had published almost 20 books; his most recent publication Israel: An Introduction was published by Yale University Press in February 2012.
Rubin is survived by his wife, Judith Colp Rubin, and two children.