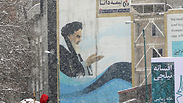 Tehran in the snow
Photo: EPA
Eighteen of Iran's 31 provinces have been blanketed in snow, following the heaviest snowstorm in the country in 50 years. The snow triggered power cuts and trapped thousands of people in their homes, the Iranian media reported.
"I haven't seen snow like this in five decades. Two meters of snow have fallen since Friday," said an official from the Mazandaran Province. According to official sources, around half a million people in northern Iran have been without electricity or gas since Saturday.
Related stories:
Snow hits Golan, Lebanon, Syria as Israel braces for storm
In pictures: Tehran in the snow
A Red Cross representative said that in the last four days, the organization's local staff have rescued 11,000 people trapped by snow. Several of the northern provinces have cancelled school for the last three days; some 3,800 people have been sleeping in emergency shelters, and food and water has been dispatched to the stricken areas cut off by the snow.