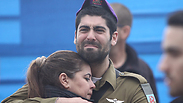 Soldiers grieving at Nachman's funeral
Photo: Avi Moalem
Some 1,000 people, including many soldiers, arrived Tuesday at the Ness Ziona Cemetery to pay their last respects to Captain Tal Nachman, who was killed late Monday night by friendly fire during an operational activity near the northern Gaza border fence.

"You were a true prince. I will never forget your eternal smile," Nachman's brother said in his eulogy. "I never believed I would be here, the thing I was afraid of has come," said the grieving father Nessie, who had earlier told the audience that his son was killed on his last day in the position.

He said, "In the last two days I felt I was waiting on bad news, I told his mom that as long as he is still serving I could not find peace."
Grieving soldiers at Nachman's funeral
"You were a great son, you helped me your whole life. You left us with a searing wound," said the bereaved father, who also addressed the circumstances of his son's death.
"It's too bad that this case was just a mistake, that he didn't die in war or an encounter, just friendly fire. If they would just adhere to procedures and basic discipline, this could have been prevented, but I guess it was written in the stars. We will miss you, may you rest in peace, we love you."
Related stories:
His brother Omer eulogized: "You said you would protect us and you died defending our nation."
Nachman's battalion commander, Lieutenant Colonel Tomer Arzi: "It's hard to think of you in the past tense. Yesterday we sat together. In your quiet leadership you emphasized your love of the profession. You were a brave fighter, a brave commander, and a dear friend."
One of Nachman's friends, Mor, said of the fallen soldier: "You were the glue that kept our friends together. You always proved you were number one. We wanted to say that we'll always think about you. You left a crater in all of our hearts. Your smile will live on with us forever."
Unfortunate incident
The incident occurred as the unit was maneuvering near the security fence.
Nachman, in command of an intelligence reconnaissance team belonging to the Southern Command, was east of the Gaza security fence performing scouting duties with a Givati squad covering the team.
During the security mission, Givati soldiers occasionally left their armored personnel carrier (APC), and surveyed the area around them where the reconnaissance soldiers were working. On one of those tours, a soldier said he saw a suspicious figure on top of the reconnaissance team's APC, which he thought was a terrorist.
The soldier then opened fire, and Nachman, who was resting on top of the APC, wearing an armored vest, was hit in the back and died from his wounds on the way to hospital.
The investigation also revealed that the suspicious figure on top of the APC was one of the reconnaissance soldiers who went inside the vehicle to retrieve something and then returned to the top of the APC.
It is not yet clear if the soldier received clearance from his commanding officer to shoot. Procedures to open fire are stricter when two units are operating next to each other. The soldier was less than 20 meters away when he opened fire.