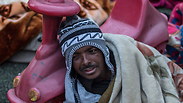 sylum seekers gather in Levinsky Park
Photo: EPA
Levinsky Park in south Tel Aviv turned into a protest site last Sunday, and activists who promised to continue the protest "until further notice" have stood by their words. Some 1,000 people reported to the park Tuesday – and many stayed at the site over the past few nights – to protest the government's policy, which has yet to change despite the escalation in the protest movement over recent weeks.
Participants in the protest movement discussed further actions they may take to attract the attention of the country. They intend to fill out numerous asylum requests to challenge the state policy, which until now had only granted refugee status to two detained asylum seekers – even though more than 1,800 requests had been filed.
It appears that next week the protesters will stage a mass march to the Saharonim detention facility and the Holot 'open' facility.
The asylum seekers are protesting against the government's immigration policy that has not changed despite the recent actions of protest that they have taken in the past weeks. "We will stay here as long as needed, night and day. We're not going to give up, we have no other choice because we are fighting for our lives," 26-year-old Pilmon, a dominant figure in the community's protest, told Ynet.
"The Israeli government is not doing anything, just making our problems and Israeli residents' problems worse. This battle is exhausting for us. Some of the people are tired, desperate and helpless upon seeing that nothing is changing, but we still have the strength to fight," Pilmon said.