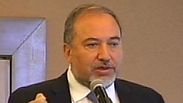 Avigdor Lieberman
Photo: Hagai Dekel
Responding to to Foreign Minister Avigdor Lieberman's Friday speech, in which he expressed support of the US Secretary of State John Kerry, the State Department welcomed the minister's remarks.
"We certainly welcomed his remarks and his sentiment in the importance of the peace process," spokesperson Jen Psaki said, noting that Lieberman's remarks reflect "the belief of many people in Israel that a two-state solution is the right outcome at the end of this process."
Related stories:
Earlier Friday, it was reported that Foreign Minister Avigdor Lieberman said: "Kerry is a true friend of Israel. I don't see what is wise about taking friends and turning them into enemies."
He further added that "Kerry is leading the process correctly. The negotiations are conducted with the Americans and the Palestinians are also conducting the talks with the Americans. We are now talking about the principles so that we could later directly negotiate with the Palestinians without any mediators."
The foreign minister nevertheless added: "I support an agreement, but against being a sucker and we've had our share of being suckers in the past. Such as in the case of the (Gaza) Disengagement."
According to Psaki, Lieberman's statement is "powerful," especially "given his history and his background on these issues and where his view was.
Lieberman has previously been a vocal critic of international efforts to set up a Palestinian state on Israeli-territory.