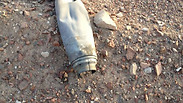 Gaza rocket
Photo: IDF Spokesperson Unit
Palestinian terrorists in the Gaza Strip fired a rocket into southern Israel on Saturday evening, but caused no casualties or damage.

This was the fourth such attack this week, the IDF said.

The rocket landed in an open area in the Sha'ar HaNegev Regional Council after a Color Red siren was sounded in the Sha'ar HaNegev and Sdot Negev Regional Councils.

"No damage or injuries were reported" in the latest strike in the northwest of the Negev, an IDF statement said.

Three rockets had slammed into open ground in southern Israel on Thursday, also without causing any casualties.

Israel often responds to such incidents with air strikes on the Gaza Strip, but it has not yet launched any retaliatory attacks.

On Tuesday, Gaza's Islamist rulers Hamas said they had redeployed a 600-strong special security force tasked with preventing cross-border rocket fire, after reports it had pulled the unit back two days before.

The Hamas force was deployed to the area on January 21, but it was withdrawn last weekend as a protest at four Israeli air strikes on Hamas training camps in the coastal enclave.

While Hamas itself does not routinely fire rockets, Israel says it holds the group, which seized power in Gaza in 2007, responsible for such attacks.