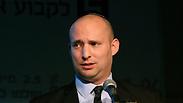 Naftali Bennett
Photo: Aner Green
A week and a half after he was challenged by Prime Minister Benjamin Netanyahu and came close to being booted from his position in the government, Economy Minister and Habayit Hayehudi Chairman Naftali Bennett open up a new front against Foreign Minister Avigdor Lieberman.

Israel's top diplomat rapped his cabinet colleague Bennett on Friday and said that "Kerry is a true friend of Israel, harsh words against him won't help," to which Bennett responded Sunday morning, saying "the future of our children is more important than compliments from our friends. We will continue to stand up for the Israeli interest even if we're not praised."

Habayit Hayehudi officials have made even harsher remarks about the foreign minister: "Lieberman is afraid of Bennett. It is a political move in light of the plight of his polls and the fact he lost 70% of his political power. And we understand him."

Related stories:

The right-wing party's officials added that, "Today it is clear there is no difference between (Justice Minister) Tzipi Livni and Lieberman. They are both in favor of an agreement and dividing the country. We suggest he expresses his leftist opinions prior to the elections and not after them."

"We saw how Lieberman rejoiced from the American praise about his concessions in order to be popular," the Habayit Hayehudi officials added. "With the Americans, you always have to concede. We prefer to not give up and not get praises. Lieberman is zigzagging endlessly."
'Friends shouldn't be turned into enemies'
On Friday, Lieberman addressed the American peace initiative, led by US Secretary of State John Kerry, and said in a speech to the Commercial and Industrial Business Club in Tel Aviv that "there is a battle of rhetoric for who is blunter, who is more litigious. Kerry is a true friend of Israel. I don't see what is wise about taking friends and turning them into enemies. We need to relax."

Lieberman added: "I support an agreement, but I am against being a sucker and we've had our share of suckers in the past. Such as the case of the (Gaza) Disengagement. The unity of the people is more important than the unity of the land."

The foreign minister added that "Kerry is leading the process correctly. The negotiations are conducted with the Americans and the Palestinians are also conducting the talks with the Americans. We are now talking about the principles so that we could later directly negotiate with the Palestinians without any mediators."