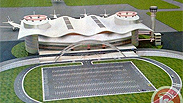 Planned Palestinian airport
Palestinian Transportation Minister Nabil Dmaidi announced on Sunday that the Palestinian Authority intends to build an airport, sea ports and a railway to connect the Gaza Strip to Egypt.

Dmaidi said his ministry signed a cooperative agreement with Egypt's civil aviation authority, in an attempt to utilize the professional experience of the Egyptians in the aerospace industry.

According to the agreement, Egyptian experts will travel to the West Bank to identify an appropriate location for a second airport in Area C. The first airport is to be built east of Jericho as the political peace process develops. The PA's first West Bank airport has several design drafts, and the Egyptians are expected to prepare flight routes according to international aviation laws.

The Gaza Strip had previously operated the PA's only international airport in Dahaniya, but it was bombed by the IDF during the Second Intifada.

Related stories:

In the past year, Palestinians have re-started flight operations with the small Palestinian Airlines, from El-Arish in Sinai to Amman in Jordan.

The transportation minister also said that plans were drawn up for a railway to connect the Gaza Strip to Egypt. He added that the last train station in Egypt is only 70 kilometers (43 miles) away from the Strip.

The Palestinian minister further noted that there is a plan for the construction of a future, modern sea port in the Strip.

Dmaidi's announcements of new infrastructure projects in the Strip appear unrealistic considering the freeze in reconciliation talks between Hamas and Fatah and the fact that Hamas is suffering record low approval ratings in Egypt.

Palestinians demanded the construction of an airport in the West Bank from the opening of the negotiations. They also demanded to revive a tourism project and the planned hotel site near the Dead Sea, as well as a request for Israeli approval for natural gas exploration off the shores of the Strip.

Additional demands were made by the Palestinian delegation relating to industrial expansions and infrastructure construction, the development of tourism areas in the Jordan Valley, increasing the number of work permits issued for Palestinians in Israel, and a similar increase in entry permits for Palestinian businessmen.