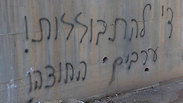 Previous "price tag" attack.
Photo: Aviyahu Shapira
Vandals have slashed car tires and sprayed walls with anti-Arab graffiti early Monday morning in a predominantly Arab neighborhood in Jerusalem, Israel Police said.

Police spokesman Micky Rosenfeld said 19 cars were damaged in Silwan. He said police were investigating the incident and searching for suspects.

Extremist Jewish settlers have been carrying out acts of vandalism in recent years, in retaliation for Palestinian attacks and to protest what they perceive as the Israeli government's pro-Palestinian policies.

Mosques, churches, dovish Israeli groups and even IDF bases have been targeted in these so-called "price tag" assaults. The attacks have been widely condemned by Israeli leaders across the political spectrum.