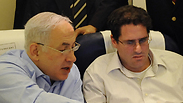 PM Netanyahu, Ambassador Ron Dermer
Photo: GPO
WASHINGTON – The Israeli Ambassador to US Ron Dermer joins the efforts to repair the ties between the two countries, in light of recent criticism among Israeli cabinet members towards US Secretary of State John Kerry.

In an interview the ambassador himself initiated with Time magazine on Monday, he stressed that the American secretary did not intend to press Israel in his Munich speech, where he warned of the worsening of boycotts against Israel in case the talks with the Palestinians flounder.

The magazine noted that Dermer's remarks are especially noteworthy, given his extremely close ties to Prime Minister Benjamin Netanyahu. Dermer served as Netanyahu's senior advisor for many years, and even prior to his appointment as ambassador he handled the direct Israeli contact with the American administration.

Related stories:

Dermer said that Kerry's remarks clearly addressed the already-existing pressure on Israel. "I think he was making a descriptive statement," he said, "I don't think he was doing it in order to pressure Israel."

"Secretary Kerry is opposed to the boycotting of Israel, something he made clear again this week. President Obama has also been crystal clear about that," the ambassador stressed.

Dermer expressed similar opinions in an interview with the Jewish news agency JTA, where he said "we deeply appreciate Secretary Kerry's commitment to Israel's security and to helping Israel achieve a lasting and secure peace with the Palestinians. Throughout his nearly 30-year tenure in the US Senate and as secretary of state, Secretary Kerry has been a staunch supporter of Israel and of strengthening the US-Israel alliance."

Addressing the Munich Security Conference earlier this month, Kerry referred to the negotiations between Israel and the Palestinians, warning that the status quo cannot remain.

While there is prosperity and momentary security in Israel, US' top diplomat said, it is an illusion that is bound to change if talks fails: "The risks are very high for Israel. People are talking about boycott. That will intensify in the case of failure. We all have a strong interest in this conflict resolution."

Kerry's remarks raised harsh criticism from Israeli ministers Naftali Bennett and Yuval Steinitz, while Prime Minister Netanyahu himself did not directly slam Secretary Kerry, however said "the attempts to boycott the State of Israel are not moral or justified." He was also criticized for failing to control his ministers' comments.