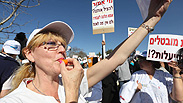 Hadassah workers protest outside Jerusalem court, Monday
Photo: Gil Yohanan
Israel's top Hadassah hospitals center won three-month court protection from creditors on Tuesday after racking up a debt of 1.3 billion shekels ($369 million) and grappling with a week-old strike by doctors and nurses.
The crisis has cast a shadow over the flagship institution of one of the world's most prominent Jewish groups, the US-based Hadassah Women's Zionist Organization, and raised questions about mismanagement at the pinnacle of Israeli health care.
Related stories:
Health Minister Yael German blamed most of the privately-owned Jerusalem institution's financial ailments on inflated salaries, bloated staffing levels and payment to employees for phantom working hours.
The Hadassah Medical Center has struggled to pay suppliers, and personnel received just half of their salaries last month, prompting doctors, nurses and administrative staff to go on strike a week ago and handle only births and emergencies.
"This (court) decision opens the way for us to begin a rehabilitation program," German told Army Radio. "The alternative was the collapse of Hadassah, and this we cannot allow."
The Hadassah hospitals, operated in collaboration with Jerusalem's Hebrew University, tended to a million patients last year and are a major draw of medical tourism to Israel.
German said the government and what she termed the "Hadassah ladies" would each transfer 50 million shekels in emergency funding to the center to cover part of its payroll.
"We hope to reach a point where Hadassah can stand on its own two feet," she said. If it could not, other solutions "including nationalisation" must be explored.
The Finance Ministry said it opposed state ownership of the center and parliament's finance committee said the matter was not on the agenda.
With one hospital in Ein Kerem in hills outside Jerusalem and another on Mount Scopus in the pre-1967 "no man's land" of the then-divided city, Hadassah has treated Jews and Arabs for over a century. It employs 800 physicians and 2,200 nurses.
A spokesman for the Histadrut labour federation said hospital staff would not return to work until they studied the Jerusalem District Court's decision, which included the appointment of a trustee, and held a meeting later on Tuesday.
Earlier in the day, nurses and staff at all of Israel's hospitals joined Hadassah colleagues in a two-hour solidarity strike.