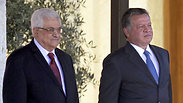 The proposed American framework agreement has secret terms, one of which determines that Palestinians who have foreign nationalities are ineligible for the right of return, a Jordanian lawmaker told Palestinian news agency Ma'an on Wednesday.

US Secretary of State John Kerry met with Jordanian King Abdullah II on Monday to discuss the peace process and update him on the details of the negotiations.

Abdullah was scheduled to meet with US President Barack Obama on February 15 to discuss the Israeli-Palestinian peace talks and the future of the Jordan Valley, Mohammad al-Qatatsha told Ma'an.

Related stories:

Al-Qatatsha noted that Amman has rejected the possibility of stationing international forces in the Jordan Valley, saying it would isolate the Palestinians from their future state.

Peace negotiations between Israel and the Palestinians started in July 2013 and were allocated nine months by Kerry. As the talks seemed to have come to a standstill, the secretary of state is pushing for a framework agreement to guide the talks forward before the talks' April 29 deadline.