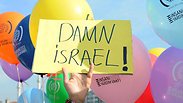 Anti-Israel protest in Turkey
Photo: AFP
Prime Minister Benjamin Netanyahu has rejected the draft of a reconciliation agreement with Turkey, Army Radio reported Thursday.

The report cited a source familiar with the talks as saying Netanyahu was afraid of the reaction from the right over the high compensation for families of those killed in fighting when the IDF boarded a Turkish Gaza-bound boat in 2010. The draft includes a payment of more than 20 million dollars to the families of the nine Turkish nationals who died on the Mavi Marmara on May 31, 2010.

Related stories:

Negotiators from Israel and Turkey presented the draft 10 days ago, the radio said, with a recommendation from National Security Council Advisor Yossi Cohen. The draft seeks to end four years of tense ties, which had already begun to fray over Israel's 2009 military operation in Gaza and were exacerbated by the deaths on the boat.

Reconciliation talks were renewed in early December 2013, after a long period of stagnation, the radio said. The move to resume the negotiations came from Turkey, which offered to hold a round of talks in Istanbul.

Netanyahu gave the Israeli negotiators - Cohen, prime ministerial envoy Joseph Ciechanover and Foreign Ministry Director-General Nissim Ben-Sheetrit - a broad mandate and instructed them to work towards a reconciliation. The report said that Netanyahu's positive attitude created optimism about the chances of a breakthrough.

This optimism grew, the report said, after the Istanbul talks revealed a new Turkishg approach and softening of their demands Then a new round of talks was held in Jerusalem last week, in which the parties put together the draft agreement.

The draft includes the amount of compensation, as well as the Turkish agreement to end legal action against IDF soldiers and officers who participated in the IDF operation to take control of the flotilla of ships from Turkey. The draft also included an outline for the normalization of relations between the two countries.

However, as days went by and the prime minister seemed in no hurry to sign off on the agreement, the radio said, the Turkish side began to believe that Netanyahu was in no rush to close the deal, which led to Turkish Prime Minister Recep Tayyip Erdogan's call on Wednesday for Israel to lift the siege on Gaza as part of the agreement.