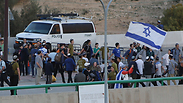 A march by rightwing Israelis in the West Bank on Thursday was intended as a show of support for Prime Minister Benjamin Netanyahu during the current peace talks with the Palestinians, Housing Minister Uri Ariel of Bayit Yehudi told Israel Radio on Friday.
Right-wing ministers and MKs joined thousands for the march Thursday afternoon, to express Israel's right to live and build in the West Bank.
The march in Ma'aleh Adumim was, according to the organizers, to urge the government to block international pressure on Israel with an "adequate Zionist response." The marchers called on Netanyahu to "stop groveling before the world's demands."
Related stories:
Netanyahu issues ultimatum to Bennett
Rightist ministers, MKs protest: There will be only one state
Shaul Arieli / Bennett's great settlement bluff will be exposed


Ariel also told the radio Friday that he would not engage in rumors that his party was on the verge of leaving the coalition.

Bayit Yehudi leader Naftali Bennett has been an outspoken critic of the US-led negotiations. He called Secretary of State John Kerry a "mouthpiece" for "anti-Semitic boycott efforts", after Kerry warned that failed negotiations could give impetus to moves to impose sanctions on Israel. He was also forced to apologize to Netanyahu after he said that Israelis living under Palestinian rule would be murdered.

On Wednesday, the entire Bayit Yehudi faction stormed out of a speech by European Parliament President Martin Schulz over his comments on Gaza. Bennett accused the leading European official of "lying in German."

Meanwhile, MK Nachman Shai of Labor told Israel Radio on Friday that Ma'aleh Adumim is part of the largest settlement bloc in Jerusalem, and it must be maintained.

He said, however, that the protest Thursday was a clear attempt to tell Netanyahu that he has no coalition for reaching a peace deal with the Palestinians. He likened the participants to passengers on a ship who drill holes in the bottom in order to sink it.

He questioned the participation of Finance Minister Yair Lapid and Justice Minister Tzipi Livni, the respective heads of parties Yesh Atid and Hatnua, in such a government.

"What are Livni and Lapid doing in this boat?" he asked.