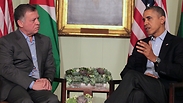 Obama and Abdullah
Photo: AP
President Barack Obama said on Friday he is considering new ways to pressure the government of Syrian President Bashar Assad as he pledged fresh US assistance to Jordan's King Abdullah, whose country is reeling from the Syrian civil war.

Obama and Abdullah held talks at the Sunnylands retreat, the estate of the late philanthropist Walter Annenberg, in a desert region of California.

With the Syrian civil war a central focus of their talks, Obama told reporters with Abdullah seated beside him that he does not expect the conflict to be resolved any time soon and that "there are going to be some immediate steps that we have to take to help the humanitarian assistance there."

"There will be some intermediate steps that we can take applying more pressure to the Assad regime and we are going to be continuing to work with all the parties concerned to try to move forward on a diplomatic solution," Obama said.

Related stories:

Obama did not disclose what steps he has under consideration, but Secretary of State John Kerry said earlier while traveling in Asia that a set of new options are under discussion.

"We have been ramping up our support to the moderate opposition and Jordan has its own strong role to play in relationship to the moderate opposition," said a senior Obama administration official after Obama and Abdullah held two hours of talks.
Jihadi threat rising
The official said the two leaders also discussed the rising extremist threat emanating from Syria and what might be done to counter it.

With Jordan under pressure from housing more than 600,000 Syrian war refugees and facing other economic troubles, Obama announced at the outset of their talks that he intends to provide the strong US ally with $1 billion in loan guarantees.

In addition, he said Washington will renew a five-year agreement that locks in annual aid for Jordan. The current package, which expires at the end of September, has been providing $660 million a year.

Obama did not say what funding level he would urge Congress to back in another five-year agreement.

Frustrated that conditions on the ground in Syria remain horrendous, and confounded by Assad's refusal to engage in serious negotiations about a transition in power, Obama has been signaling a potential shift toward a more aggressive policy.

Senior administration officials who briefed reporters about Obama's talks with Abdullah said all options remain on the table short of putting American boots on the ground.

Among the long-standing options has been the possibility of arming Syrian rebels. Such a step would only be applied if it would help nudge the process toward a political solution, one official said.

"Helping to improve the position of the Syrian opposition, put pressure on the Syrian regime, is certainly part of the overall calculation," said the official, who spoke on condition of anonymity.

Obama met Abdullah at the Sunnylands retreat as a way to hold informal discussions on a wide-ranging set of issues.