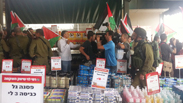 Palestinians protesting against settlement products
A special nine-judge panel of the High Court of Law held a hearing on Sunday on the legality of the controversial Anti-Boycott Law, which permits punishment for anyone or any organization supporting a boycott of Israel or an Israeli institution.

The petition was brought by human rights organizations who claim the law violates the freedom of speech and is hurting public debate on controversial issues.

Related stories:

This is one of the most meaningful legal challenges to reach Chief Justice Asher Grunis' desk. Grunis is known as a conservative judge who often avoids interfering with government decisions.

The Law for Prevention of Damage to State of Israel through Boycott was passed in the Knesset on July 11, 2011. The law defines a "boycotter" as any individual or organization who deliberately avoids having economic, cultural or academic relations with any person or body purely over affiliation to the State of Israel, a state institute or a specific region under its control.

The law permits economic sanctions such as a denial of tax exemptions or participation in government contracts. The law also allows private individuals who say they were hurt by a boycott call to file for compensation.

Many organizations have submitted petitions against the law, among them left-wing groups and individuals who have called for a boycott of the settlements - the Association for Civil Rights in Israel (ACRI), Yesh Din, Coalition of Women for Peace, Adala (the Legal Center for Arab Minority Rights in Israel), MK Ahmed Tibi and Gush Shalom.

ACRI claims that the purpose of the law is "to hurt initiatives for political, cultural and academic boycott as a tool for a non-violent protest against the occupation policy and/or the discrimination policy against the Arab minority in Israel."

In its response to the petition, the state conceded that the law "raises significant legal difficulties," but since it has yet to be implemented, there is no reason to strike it down.