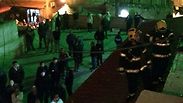 Five people were killed Monday morning in an explosion at a residential building near the northern port of Acre. The victims have been named as Nasser Aldin Sarhan, aged 8, his father Riak Sarhan, aged 55, his mother Nagah Sarhan, aged 51, and married couple Mohammed and Hanan Bader, aged 43 and 38 respectively.
Evacuating survivors in Acre blast (Credit: Halil Hasin) (צילום: עידו בקר, חליל חסון, דוברות כבאות והצלה מחוז צפון ומד"א)
The blast ripped through the apartment block at around 2 am, destroying the three-story building and leaving residents trapped under the rubble. At least 10 people were wounded in the explosion.
'I was in the shower, and the walls and ceiling fell in'
Magen David Adom rescue personnel rushed to the scene to treat the injured, one of whom was in serious condition.
The explosion was initially attributed to an explosion by a gas cylinder, but police are now exploring a criminal element connected to a dispute over an illegal antenna placed on the roof of the building. Police and local government officials were circumspect, but admitted that there could be a link.
All the buildings in the Old City of Acre, where the blast occurred, had taken down their cellular antennas; the building that collapsed was the only one that did not do so.
"Several years ago we received complaints about 37 unlawful antennae in the Old City," said Acre Mayor Shimon Lancry. "In conjunction with the cellular companies, we removed them all except for the last one (on the destroyed building), and it is possible that it angered several people. It is possible, we are looking into it. Those living on the upper floors wanted to keep it, even though it did not work."
Local police commander Haggai Dotan said that the investigation will be multifacted, and include an exmaination of criminal intent. "There were cellular antennae on the roof, and investigators are looking into the connection," Dotan said.
An emergency services command post was quickly established at the entrance to the Old City, in the wake of the blast, and 18 firefighter crews were dispatched to the location.
Last month, a family of three in Jerusalem was killed and 15 people were injured when a gas cylinder exploded in an apartment block, apparently after a gas leak in the third floor of the building.
Ahiya Raved contributed to this report