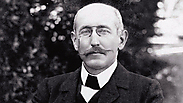 'Inconceivable conditions.' Alfred Dreyfus
Photo courtesy of Charles Dreyfus, from the Dreyfus family's private collection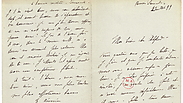 The letters that kept Dreyfus sane
Photo courtesy of the Museum of Art and of Jewish History in Paris
"When will I be able to kiss you? I kiss you a thousand times as I love you, as I adore you, my dear Lucie." The full letter was selected by the New York Times as one of the 50 greatest love letters of all times, and it is now unveiled in Israel for the first time alongside other letters Alfred Dreyfus sent his wife.

These kisses and expressions of love came out from a prison in France in the late 19th century. The writer, Alfred Dreyfus, was the first Jewish officer in the French Army, whose trial became a symbol of the anti-Semitic persecution of Europe's Jews at the time. The letters were sent to his wife, Lucie, who never stopped hoping for his release from prison.

Historic Find

French Defense Ministry posts never before released military files used to wrongly accuse Alfred Dreyfus in 1894 online. Dossier includes over 470 documents - including witness statements, letters

The Dreyfus couple's romantic and less known side is being revealed, 120 years later, in a new exhibition which will open next month in Tel Aviv at Beit Hatfutsot – The Museum, of the Jewish People, In collaboration with the National Library of Israel.

Letters from the family's private collection reveal that the affair did not only include persecution and imprisonment, but also great love, a shared fate and romantic expressions from afar.
'A thousand kisses to the children'
The correspondence between Dreyfus and his wife began upon his imprisonment in 1894 and continued until his return from Devil's Island in 1899. One of the particularly emotional letters is the one he wrote to her on January 31, 1895, after a degradation ceremony he went through, during which his ranks were removed.

"When will I be able to kiss you, and find in your deep love the strength I need to reach the end of this horrible suffering?" Dreyfus wrote to his loved one. "Kiss everyone on my behalf, kisses to our darlings. I kiss you as I love you."

He also told her he was no longer receiving mail from her: "Until now, every day I had a moment of bliss when your letter arrived… I would read your letter four and five times, taking in every word – slowly the written words turned into real talk. I thought I heard you speak next to me. Ah, pleasant music touching my soul. For more than four days nothing – the silent sadness, the dreadful loneliness."

One of the first letters Alfred wrote Lucie, in 1894, reveals his optimism despite his difficult situation: "I trust to God and to justice that truth will make itself known in due time. My conscience is clear and tranquil."

He expressed his feeling for her by writing, "I kiss you a thousand times as I love you, as I adore you, my dear Lucie. A thousand kisses to the children. I dare not speak further of them. Tears come to my eyes when I think of them."
Dreyfus' emotional baggage revealed
In 1899, after Dreyfus returned from his imprisonment and was waiting in a military jail for his second trial, his wife wrote to him: "My dear Alfred, for four years I have been struggling, praying and hoping for the arrival of this blessed day. I have prepared for this excitement, I wanted to be strong and not to break down in any way. We both needed superhuman efforts to focus and stretch our nerves, in order to endure this huge trial courageously."

"I wanted to tell you a thousand good things, to tell you about the children, about our relatives, about all those we both love, but I was afraid to hurt you if I gave you more issues to be excited about."

Beit Hatfutsot's chief curator, Dr. Orit Shaham Gover, stressed the historical importance of the love letters: "Beyond exposing the humanity of the affair's heroes, they reveal a key player who accompanied the hero throughout the entire affair – Lucie. The letters present her dominant figure, which served as emotional support for Alfred and a source of hope, yearning and anticipation for their reunion.

"Over the years, the question of Dreyfus' survival in the inconceivable conditions he was imprisoned in has been raised more than once. A person who in addition to the serious physical torture he went through, also suffered from terrible mental humiliation. Today we know that Lucie played an important role in maintaining Alfred's sanity, as he was chained to a bed most hours of the day.

"The story of the family in general, and the story of his relationship with Lucie, provide a possible answer to the question of his survival and character, and so it was important to us to stress in the exhibition, for the first time, the personal aspect of the words 'the Dreyfus affair.'"

In addition to the love letters, the Beit Hatfutsot exhibition will also include other items from the Dreyfus family's private collection, as well as newspaper segments and cartoons about the affair and a film directed by Georges Méliès.

France's ambassador to Israel and Dreyfus' great granddaughter will attend the opening night on March 10.