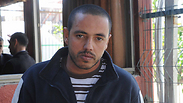 Samir Issa: We have lost a much-loved family
Photo: Aviyahu Shapira
The brother of one of the five victims of an explosion at an apartment building in Acre earlier Monday does not believe that the deadly blast was caused by a faulty gas cylinder, as police suspected.
The blast ripped through the apartment block at around 2 am, destroying the three-story building and leaving residents trapped under the rubble. At least 10 people were wounded in the explosion.
Related stories:
Five dead in explosion at apartment block in Acre
'I was in the shower, and the walls and ceiling fell in'
Khaled Bader's brother Mohammed, 43, died along with his wife Hanan, 38, in the explosion. Riak and Nagah Sarhan and their eight-year-old son Nasser also perished in the explosion.
"What happened was murder," Khaled said. "We know the people who caused the explosion. These people have no responsibility (to others), wait until after the funerals and then we will reveal several details that have not been talked about.
"They threatened me and my family several weeks ago, and among the threats we received was one to blow up the building. My brother and his wife were good people; they had been married 15 years and loved each other."
Yehiyeh Issa, whose sister Nagah, 51, died in the explosion along with her 55-year-old husband and young son, was more circumspect. "It is a great tragedy," he said. "We will wait for the results of the investigation."
"I never would have believed that something like this would happen to us, we cannot digest what has happened. My sister was an amazing woman, always telling us how happy she was with all the family," he said.
Samir Issa, Nagah's nephew added: We have lost a much-loved family, it is a shocking tragedy. The hardest thing is that we don't understand how the building came to collapse."
Ahiye Raved contributed to this report