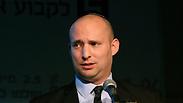 Naftali Bennett
Photo: Aner Green
Past experience has taught Israel that evacuating West Bank leads to terrorism and the loss of many innocent lives, Economy Minister Naftali Bennett said Monday, addressing the Conference of Presidents of Major American Jewish Organizations.

"There is an attempt to vacate Judea and Samaria of Jews and build an Arab-Muslim state in the heart of Israel, literally ten minutes from here," Bennett said. "Copy and paste what happened in Gaza, Lebanon and even Judea and Samaria," he urged. "Ten years ago we vacated cities in the West Bank and they killed 1,000 Israelis, many of them here in Jerusalem."

Bennett also rejected the idea that Israel is "occupying" the areas that it acquired as a result of the 1967 Six Days War. He said that neither the "two million Palestinians who live there nor the 700,000 Jews are going anywhere," but called for more economic opportunities for Palestinians.

"There's a land dispute but there's no occupation," Bennett said. "You can't occupy your own home. Any Christian, Muslim, or Jew should open up the Bible. Beit El and Hevron have been our home for 3,000 years," he said of modern day cities that date back to Biblical times.

Related stories:

Bennett, a former director of the movement of Jews who live in post-1967 areas called the Yesha Council, was asked if US Secretary of State John Kerry is anti-Semitic.

"Kerry is no anti-Semite," Bennett said firmly. "But sometimes the world gets it wrong. At the end of the day, Israel gets it wrong, and our children will pay the price. We will do what is best for us."

Bennett also cited a series of American mistakes including pressure to allow Palestinians to hold elections in the West Bank and Gaza Strip after Israel withdrew from Gaza in 2005.

"(The right-wing political bloc) said to them, that if we do that we'll end up with Hamas," Bennett told the approving crowd. "But they insisted that we have the elections. And what happened? Now we have 'Hamastan' in Gaza."

Bennett's American audience seemed supportive of his comments.

"The Arab leadership continues to reject the two-state solution so it is not shocking if the Israeli leadership does so as well," Ken Abramowitz of the American Friends of the Likud said. "They want their own state within the 1967 borders, and then they want the rest of Israel."

A few in the audience said they worried that Israel's continued building in post-1967 areas was alienating not only the Obama administration, but many younger American Jews as well.

"My concern is that American Jews believe that settlements are inappropriate and do not help the peace process," Seymour Reich, a past president of Bnai Brith said. "We hear this on college campuses as well as other places. This will hurt us going forward."

Meanwhile, the Yesha Council, which defines itself as "the official organization of the Israeli settlement movement, representing over 360,000 Israeli residents of Judea and Samaria," has started a new website called "John Kerry Solutions Ltd," spoofing the American secretary of state as though he were a consulting firm.

The slogan, which reveals the council's deep distrust of the peace process, is, "We don't have any good solutions, but you've gotta do something, right?"

Previous videos show a John Kerry look-alike visiting sites around Israel including the Western wall.

"Dividing Jerusalem is not an easy thing," the Kerry look-alike says in a heavy Israeli accent. "We must realize it's holy to all religions – Jews, Christians, Muslims, Buddhists, Klingons and Hobbits. What I'm saying is, why fight over an old wall?" the character asks while pointing to Judaism's holiest site.

The Yesha Council claims the videos were seen "millions" of times and caused enough of a stir to provoke a reprimand from the US State Department, with a spokeswoman calling it "unacceptable."

One of the new videos, called, "When Israel Said No," gives a short historical survey of US-Israel relations and various points of conflict. At the end, the screen reads, "During the years of its existence when Israel was weaker and the US stronger, Israel knew how to say no to the Americans when the matter was at odds with its position or security interests. Israel's continued existence is its main interest, whereas the US has other commitments in the Middle East."

Article written by Linda Gradstein.

Reprinted with permission from The Media Line.