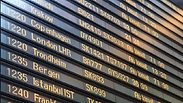 Arrivals and departures
Photo: Shutterstock
Has your flight been delayed? You're in good company. Global flight tracker Flightstats, which provides information on airports and airlines, released over the weekend its On-Time Performance Service Awards for 2013 with full details on the on-time departures and arrivals of airlines around the world.

The company has been collecting data since 2005 about the performance of more than 800 airlines actors the world and providing real-time information to passengers on flight schedules, including through a mobile phone application.

Flying Ambassadors

El Al stewards, including a Druze and an Arab, take an active role in Israeli PR as part of voluntary project aimed at improving country's image around the world

Every year, the company publishes the on-time performance of airlines after examining millions of departures and arrivals of international passenger flights, domestic flights and low-cost flights.

The company's report reveals that out of 27,752,213 flights checked in 2013, delays were recorded in the departure or arrival of 4,922,343 flights.

On-time departure is defined by Flightstats as flights departing less than 15 minutes later than scheduled gate departure. On-time arrival is defined as flights arriving within 14 minutes of scheduled arrival time.

The company receives the data directly from the airlines' databases, from aviation authorities around the world and through airlines' international distribution systems. The statistics only include airlines which meet or exceed a tracking threshold of 90% and are ranked in the top 60 worldwide in terms of Available Seat Miles (ASM).

The report includes a table ranking the top 10 major international airlines in on-time performance and additional tables according to region: North America, Europe, Asia-Pacific, Middle East and Africa, and South America. The report also ranks low-cost airlines and mid-size and regional airlines.

Although the report calculates the on-time average according to departure and arrival times, in the aviation industry on-time performance is usually calculated according to the arrival time, as in many cases airlines can leave late and still reach their destination on time since the airlines take the possibility of delays into account when registering the flight length. Thus, we only referred to arrival times in this report.
The bottom line
Out of 58 major airlines, Bahrain's principal flag carrier, Gulf Air, has the best on-time arrival performance: 90.73% of the 42,515 flights it operated in 2013 reached their destination on time.

South African Airways ranked second with 90.42% of 57,900 flights, followed by Japan Airlines with 89.75% of 260,748 flights.

The Israeli representative, El Al, ranked last with an on-time arrival performance of 64.99%, after Royal Jordanian, Ethiopian Airlines and Colombia's flag carrier Avianca. More than one-third of the Israeli airline's flights arrive late.

El Al Israel Airlines said in response that its on-time performance constantly improves and has an average of more than 80%.

"Unfortunately, delays in Cyprus' airspace, through which El Al flights pass, sometimes affect the on-time performance and arrival times," the company said in a statement, adding that it had turned to Eurocontrol, the European organization for the safety of air navigation, in a bid to solve the problem.