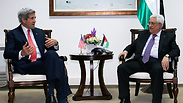 Kerry with Abbas
Photo: AP
US Secretary of State John Kerry and Palestinian President Mahmoud Abbas met for dinner on Wednesday at what the United States called "an important point in the negotiations" over an Israeli-Palestinian peace deal.

Peace talks resumed on July 29 after a nearly three-year break. At the time, Kerry said : "Our objective will be to achieve a final status agreement over the course of the next nine months."

Related stories:

As that deadline has approached, US officials appear to have scaled back their ambitions, saying they are trying to forge a "framework for negotiations" as a first step though they still hope to hammer out a full agreement by April 29.

Such a framework could sketch the outlines of an accord to resolve the more than six-decade-old dispute, whose main issues include borders, security, the fate of Palestinian refugees and the status of Jerusalem.

"We are at an important point in the negotiations where we are engaged with narrowing the gaps between the parties on a framework for negotiations, and it was an appropriate time to spend a few hours meeting with President Abbas to talk about the core issues," said State Department spokeswoman Jen Psaki.

However, some Palestinian officials have criticised the idea of a framework and, in particular, the notion that either side could note their "reservations" about anything in it.

Hanan Ashrawi, a member of the Executive Committee of the Palestinian Liberation Organization, on Wednesday reiterated that the Palestinians were opposed to the idea of a framework that allowed both sides to express their reservations.

"This framework agreement is not really an agreement. Each side can express their reservations ... If both sides disagree on the issues presented, that means it is not an agreement," Ashrawi told reporters in Ramallah.

"Why have (such a deal)? Is it just to maintain a semblance of progress? Is it meant to buy more time? Or is it not to admit we have failed?" she asked. "President Mahmoud Abbas committed to negotiations ending on April 29. That is the deadline."

Despite Ashrawi's remarks, Abbas earlier this week hinted at some flexibility on one of the major issues in the dispute: the "right of return" for Palestinians who fled or were driven away during 1948 hostilities when Israel was founded.

Speaking on Sunday, he said the Palestinians wanted to keep the issue alive protect the rights of such Palestinians, "but we do not seek either to flood Israel with millions (of refugees) or to change its social composition".

His comments were seen as his clearest suggestion yet he might accept Israel's demands that refugees be permitted to "return" only to a future Palestinian state.