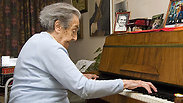 Alice Herz-Sommer
Photo: Esther Marom
Alice Herz-Sommer, the world's oldest known Holocaust survivor, passed away Sunday morning at the age of 110. Herz-Sommer had been admitted to a hospital in London, where she lived, after feeling unwell Thursday. "She passed away peacefully, with her family by her side," her grandson Ariel told Ynet.

"Much was written about her, but for those of us who knew her best, she was 'Gigi'. She loved us, laughed with us and cherished music with us," the grandson added. "She was our inspiration and our world will be significantly duller without her in it."

Related stories:

Born in Prague, Herz-Sommer began to play the piano from an early age and eventually became a part of the Czech Philharmonic Orchestra. After World War II broke out, she was arrested by the Nazis and moved to the Theresienstadt concentration camp, where she was forced to play concerts for German officers. Her story served as the basis for the movie "The Lady in Number 6: Music Saved my Life," an Oscar nominee for best short documentary.

Interview with Alice Herz-Sommer in 2013

She was born into a distinguished Jewish family, and her mother was a childhood friend of Gustav Mahler. Franz Kafka was a regular guest in their home. After showing a special talent for music, she became a soloist in the Czech Philharmonic Orchestra. Before World War II, she married violinist Leopold Sommer and gave birth to their son Raphael in 1937.

After the Nazi invasion of Czechoslovakia, most of her family left to Israel, but Herz-Sommer decided to stay to take care of her ill mother, who was sent in 1942 to Theresienstadt and later to Treblinka, where she died.

In 1943, Herz-Sommer was also sent to Theresienstadt, along with her husband and son, where she had to perform for the Nazis; it was this talent that saved her son from death at the camp, but her husband was sent to Auschwitz and later to Dachau, where he found his death.

After Theresienstadt was liberated in 1945, Herz-Sommer returned to Prague and in 1949 immigrated to Israel, and lived in Jerusalem. She taught at the Jerusalem Academy of Music and her son became a famous cellist and moved to London. He died 15 years ago after suffering a heart attack.

Alice Herz-Sommer shares her optimistic philosophy

In 1986, she also moved to London, and passed her last years in a modest apartment in Belsize Park neighborhood. She continued to play the piano until her death, and was known as an optimistic and happy woman.

"I'm very sad. It's true that she was a 110-year-old woman, and that everyone reaches the end of his life, but I always thought this woman would live forever," said Esther Marom (71) from Ramat HaSharon, who was Herz-Sommer's student in Jerusalem and had visited her recently. "She lived near her family – two grandchildren and daughter-in-law, who were by her side until the last minute. She functioned and hosted many friends and journalists who visited her frequently to witness the wonder."

"Aliza was very modest and that was her most prominent quality," Marom added. "She loved to teach and it was her life. She preferred teaching music over anything else and was very pleasant in the lessons. She cared about students and their progress. Her optimism was always one of her virtues and that's what saved her in the concentration camp, along with the music."

Nurit Vekshel (78) from Givatayim is also a former student of Alice, who stayed in touch with her over the years. "I visited her several times in London and we talked on the phone twice a week in recent times. This is a woman who whenever you ask her how she is, she answers 'excellent'.

"She is the embodiment of optimism. Her motto was "I can't complain," and she always saw the bright side. That's what kept her going for so many years," Veshkel added.

Veshkel told that Herz-Sommer "lived in a one-room apartment with a tiny kitchen, but whenever she had visitors she would make proper meals. In recent years, when she received hot meals from feeding programs, she would give me half when I visited. She was excellently musical and was an extraordinary person, with a constant smile and hearty laugh until her last day."