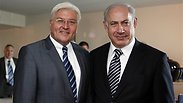 Steinmeier and Netanyahu
Photo: AP
There is a unique connection between Germany and the Jewish and democratic State of Israel. There is no other country in Europe with such strong cooperation with Israel in the political, scientific, cultural and economic realms. It has been a long and difficult road that our two nations have walked together in order to reach this point. With our history, it seems miraculous: How could Israel ever trust the "land of the criminals"?
When Israel and Germany embarked on diplomatic relations in 1965, they regarded one another with cool suspicion. No one observing the situation could have predicted that in 50 years, German and Israeli ministers of state would sit around a shared government table in order to determine cooperation in a range of diplomatic fields. But that is exactly what will happen, from Monday, when German Chancellor Angela Merkel and 14 of her ministers sit together with their Israeli counterparts.
Related stories:
The impact of this cooperation on the German and Israeli people will be felt in understandings we will sign on a consular level. Israeli citizens facing problems in countries with which Israel has no diplomatic ties will be able to turn to German consulates for assistance. This unique understanding again highlights the deep relationship of trust between Israel and Germany, and the special quality of that relationship.
We meet at a time that is characterized by dramatic turbulence in the Middle East. Syria sinks deeper and deeper into a cruel civil war, revolutions and regime changes are shaking Israel's Arab neighbors. Israel is surrounded by new and dangerous terror entities that undermine weak governmental entities. And on the horizon looms the Iranian nuclear threat.
However, this is also a time of negotiations and attempts to find diplomatic solutions. Israel has decided to have American-mediated talks with the Palestinians on implementing a two-state solution. We decisively support this, and encourage Israel to make the hard but necessary decisions. The United States, Russia, China, Britain, France and Germany are discussing the future of the Iranian nuclear program in Vienna. Our goal is clear: We must stop Iran from obtaining nuclear weapons.
At times, Israel feels isolated and misunderstood. The current debate on Europe's policy regarding Israel brings these feelings to the surface again. But Israel does not stand alone. Germany and Europe are important partners that act decisively for Israel's legitimization and its right of existence.
Does this mean we agree on all issues? I doubt it. It means that the State of Israel and its citizens are very important to us. So important, that we've been trying, every time anew, to reach a stable and sustainable peace for the State of Israel and its neighbors. So important that we work to raise for discussion all of the obstacles on the way to peace, and work to overcome them. At the same time, Israel is so important that we act decisively for a strong Israel.
For me, in my role as Germany's foreign minister, there is great significance in the fact my country and Israel have reached such multi-layered friendship. This friendship is both unique and priceless.