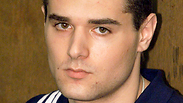 Samuel Sheinbein
Photo: Reuters
The father of an American-Israeli prisoner shot dead after opening fire on prison guards on Monday expressed his shock and sorrow at the incident that left three guards and a fellow inmate wounded.
"We wish all the wounded a speedy recovery and rehabilitation, and are deeply sorry at the sequence of events," Sol Sheinbein told Ynet.
Samuel Sheinbein, 34, was shot dead on Sunday at Rimonim prison in central Israel, after he opened fire in a prison bathroom with a smuggled weapon. Three guards were wounded in the incident, one critically. Sheinbein was subsequently shot dead by elite security forces who stormed the bathroom in which he had barricaded himself.
Victoria Sheinbein, Samuel's mother, told relatives that she was shocked and upset. "She identified the body (of her son) not long ago and she said it was riddled with dozens of bullets," said a family member. "For all the terrible things he had done, he was still her beloved son. We are all stunned, and ask that they are given time to grieve."
Sol Sheinbein stood at the doorway to their home, and read out a letter in which he again expressed the family's sorrow at the wounds the prison guards had suffered.
Army Radio reported Monday that the condition of the two wardens who were critically injured has improved. One of them underwent surgery overnight to remove blood clots, while the other's condition has stabilized and he is now in moderate condition.
Related stories:
Meanwhile, the Israel Prison Service on Monday launched an investigation into the shooting. The Israel Police has also established a committee to investigate the incident, spokesman Micky Rosenfeld told AFP.
Sheinbein was serving 24 years in an Israeli jail for the gruesome murder of acquaintance Alfredo Enrique Tello in the United States in 1997, when he was 17 years old.
He had fled to Israel to escape justice, and Israel refused to extradite him due to his Israeli citizenship. The legal wrangling caused outrage in the US, and Congress even threatened to withhold aid from Israel due to its intransigence.
Following Sheinbein's case, the Knesset passed a law allowing for Israeli nationals to be extradited.