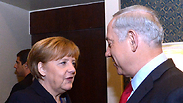 Merkel and Netanyahu
Photo: GPO
Germany views Iran as a potential threat not just to Israel, but also to European countries, Chancellor Angela Merkel said Tuesday at a news conference in Jerusalem with Prime Minister Benjamin Netanyahu.
But she stopped short of endorsing her host's demand that Tehran give up all sensitive nuclear projects under any negotiated deal with world powers.
Germany is Israel's most important ally in Europe, where the Netanyahu government frets it is losing support given troubled peace talks with the Palestinians. That makes Merkel's views a bellwether of European sentiment on Middle East issues.
Related stories:
"We see the threat not just as a threat for the state of Israel but as a general threat for Europe as well," she said at the joint news conference, adding that Germany would pursue international talks with Iran on its nuclear activities.
Netanyahu acknowledged that world powers had "talked about the possibility of some enrichment" continuing in Iran as part of a final deal.
"I think it's a mistake," he said. "Every single leader that I've talked to in the Middle East agrees with that position, whether they say so publicly or not. Why? Because if Iran really wants just civilian nuclear energy, then they don't need any enrichment. They don't need centrifuges."
Asked if she agreed, Merkel was circumspect.
"It is clear that there is a difference of opinion here with regard to these negotiations and whether they ought to take place. We have set out on the path of low enrichment, but enrichment does take place and I believe that we can succeed," she said.
"We can expect a kind of shield being set up in order to make sure that Iran does not achieve in the short future a (military) nuclear capability," she added, in an apparent allusion to an envisaged regime of low-volume enrichment and enhanced nuclear inspections.
"The question is whether we will be able to achieve a result that is better than the present state of affairs. We have decided it is better to participate in the negotiations because we believe that to be better than the status quo."
Merkel, in Israel with most of her cabinet for a joint meeting of the two cabinets to mark 50 years of diplomatic ties, also said that boycotts of Israeli products were not helpful for the peace process.
A nuclear Iran would be "the equivalent of 50 North Koreas," Netanyahu said. He reiterated his view that the goal of nuclear talks with the Islamic Republic was to prevent Iran from obtaining a nuclear weapon.
"I believe in zero enrichment, zero centrifuges and zero plutonium in Iran," the premier stressed.
He also echoed Merkel's comments on a boycott of Israel, arguing that it would only serve to hurt Palestinian economy.
A boycott is not the "moral productive way" to advance peace, it only hinders it, the prime minister noted.
"There can be criticism but those that call for boycotting Israel boycott only Israel and blame only the Jewish state," he said.
Netanyahu added that he hopes other countries in Europe follow Germany's lead and reject the boycotts against Israel.
German Environmental Protection Minister Barbara Hendricks told her Israeli counterpart Amir Peretz earlier Tuesday that Germany would never boycott Israel.
Touching on the peace process, Netanyahu reiterated his support of a two-state solution, and expressed hope Palestinian Authority President Mahmoud Abbas was willing to walk the path of peace.
Merkel noted that while Germany and Israel do not always see eye to eye on the settlements issue, she said Germany supports Israel's requests for security assurances in a peace accord with the Palestinians.
"We don't agree on everything but we shall have to overcome this obstacle," she said.
Merkel met with Netanyahu on Monday night at his official residence, and the two cabinets held a joint meeting in Jerusalem on Tuesday morning.
The two governments were to sign a series of agreements covering defense, foreign relations, trade, scientific research and development, culture and welfare, according to the PMO. They were also to sign cooperation agreements on cancer research, senior citizen care and preservation of the White City in Tel Aviv as a center for Bauhaus architecture.
Also Tuesday, Merkel was to attend a special ceremony at the official residence of President Shimon Peres, who was to award her the Presidential Medal of Distinction, Israel's highest honor.
The Associated Press and Margarita Erbach contributed to this report