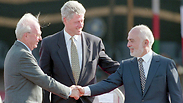 Rabin, Clinton and Hussein. Due to sides' interests, there are two partners to 'cold peace'
Photo: AP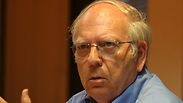 Efraim Halevy
Photo: Gilad Kavalerchik
On the morning of Sunday, June 24, 1994, an Israel Air Force plane landed in Washington. Prime Minister Yitzhak Rabin and his entourage, including Foreign Minister Shimon Peres, headed to the hotel to rest ahead of a series of ceremonies which were about to take place at the White House, the highlight of which was the first open meeting between Rabin and King Hussein.

All preparations appeared to have been completed, and all that was left was to reveal the content of Israel and Jordan's joint declaration, which President Clinton was also supposed to sign in his capacity as a witness and as the talks' sponsor. But then the prime minister told me that the statement had to be corrected, as the legal advisors had demanded that it would include the announcement that "the state of war" – rather than "the state of warfare" – was coming to an end. I was instructed to settle the change with my Jordanian interlocutors.

Defining Israel

Op-ed: Absurdly, we are demanding recognition from the Palestinians but failing to create broad national consensus over the definition of a Jewish state.

This last-minute change contradicted the understanding that once a draft was agreed upon, it would not be reopened. As expected, the Jordanians responded angrily, saying that if the document would be reopened for discussion, they would demand a number of changes too. For example, that it would be written that the state of war "will come" to an end, in future tense, rather than "is coming" to an end. Naturally, we objected. After all, the entire purpose of the meeting was to declare the end of the war ahead of signing a peace treaty with Jordan.

I telephoned my Jordanian interlocutor and made it clear to him that the correction was unacceptable. In the middle of the conversation, I suddenly hear the voice of the king, who was in good spirits. He told me that in Arabic, warfare and war were the same thing. The translation of both words is the word "harb," and he would explain that in his speech at the White House lawn. And indeed, that is what the king did in his speech, which drew a standing ovation from the audience.
Some openings had better be left closed
In early October 1994, King Hussein and Prime Minister Rabin met at the Hashemia Palace in Amman for a last nightly discussion on the draft peace treaty. The king's senior advisor, Awan Hasawana, suggested at a certain stage of the discussions that after the sentence announcing the end of the warfare – the "harb" – both states would declare the annulment of all acts of legislation regarding the war relations between Jordan and Israel.

Rabin accepted the offer enthusiastically. But then a lively whispering ensued among the Israeli delegation members, and they suggested that the prime minister ask for a break. Israel's legal advisors clarified that if this clause would be adopted, Israel would be required to cancel all arrangements under which Palestinians' assets were transferred to Israeli-Jewish legal control – and Palestinian landowners who acquired citizenship in Jordan would be entitled to claim the lands back. We are talking about wide parts of Jerusalem, including neighborhoods in the western part of the city.

The prime minister returned to the discussion and clarified that Israel would not agree to cancel the incidence of regulations on "enemy property," which were introduced during the days of the British Mandate. There are, therefore, two partners in the state of "cold peace" prevailing between Jordan and Israel, due to the weighty interests of both sides.

Now Israel is demanding that the Palestinians recognize it as the state of the Jewish people. A Palestinian legal expert I spoke to recently asked me how Israel would react if the Palestinians demanded "reciprocity." In other words, recognizing the Palestinians' right to a "Palestinian-Muslim" state. Would we recognize the status of the Arab-Muslim "nation" in parts of the Land of Israel?

Those in charge of the negotiations should perhaps ask for a short break before we fall into this boiling kettle. An own goal is the worst case. The Jordanian-Israeli story illustrates that each time you demand something from the other side, you are opening openings which had better be left closed.

Efraim Halevy is a former head of Mossad