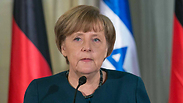 Angela Merkel
Photo: Noam Moskovich
President Shimon Peres awarded German Chancellor Angela Merkel with the Presidential Medal of Distinction - Israel's highest honor - at a ceremony at his official residence in Jerusalem on Tuesday. "You stand courageously against any manifestation of anti-Semitism," Peres told Merkel. "You stand steadily by Israel's side to help us reach the greatest of heights."
Peres hailed Merkel her commitment to remembering the Holocaust, noting that under her leadership, Germany has not forgetten or tried to gloss over its difficult history. He noted that Merkel "oversaw the expansion of our economic ties, the deepening of scientific collaboration and never hesitated to provide us with the tools necessary for our defense."
Related stories:
The president pointed out that Merkel had stood firm against the Iranian threat when she called it unacceptable that nuclear weapons fall into the hands of a Holocaust-denier who negates Israel's right to exist.
Referring to the ongoing negotiations with the Palestinians, the president said he knows Merkel is closely following their progress, and was a consistent supporter of the peace process. Merkel believes and Israel believes, he continued, that there is no substitute for peace. "Secretary of State Kerry is managing the negotiations which have restarted between us and the Palestinians. The process must not cease and your support for it carries great significance," Peres added.
He also hailed what he called an interesting proposal from the European Union to reward Israel and the Palestinians once they did reach a peace agreement, in the shape of special status within the framework of the EU. He noted that the "idea could well contribute to the cause of peace, as a similar proposal did in the Balkans."
Merkel also touched on the negotiations, stressing that Israel's long term security would be achieved only when it had made peace with its Arab neighbors. She noted that the path may be bumpy, and that both sides would have to make painful concessions.
.
She also repeated her pledge from earlier in the day that Tehran would not arm itself with a nuclear weapon, stressing that there could be no danger to Israel's security.
The ceremony ended a 48-hour trip to Israel by the chancellor and her cabinet, as the opening salvo in events to mark 50 years of Israeli and German diplomatic relations.
On Monday night, Merkel met with Prime Minister Benjamin Netanyahu at his residence in the capital, and on Tuesday morning they brought their governments together for a special joint session, after which the two leaders held a press conference.