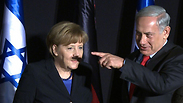 Unfortunate shadow? Merkel and Netanyahu
Photo: AFP
Prime Minister Benjamin Netanyahu said goodbye to honored guest German Chancellor Angela Merkel on Tuesday night, after a successful 24-hour visit by the bulk of the German government.

The two nations are soon marking 50 years of full diplomatic ties, but the two days of talks, ceremonies and photo ops have been overshadowed by an image that went viral just as Merkel took her leave.

A photo of the two heads of state shows Netanyahu pointing at something out of frame, but his finger casts an unfortunate shadow across the German leader's upper lip, evoking an image of a vile predecessor.

Two versions of the photograph have been enthusiastically reproduced in the international media, perhaps ensuring this historic meeting will be remembered for something entirely different altogether.