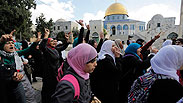 Jerusalem's Al-Aqsa mosque
Photo: Reuters
Israeli police said they will limit access for Muslim men to Jerusalem's Al-Aqsa mosque compound during Friday prayers to prevent possible clashes following services.

Meanwhile, three Palestinians were arrested Friday for throwing stones at Israeli police and security forces in the Ras al-Amud area of the capital. There arrests took place as part of a protest attended by hundreds of Palestinians against Israel's decision to limit access to the compound.

Israeli police spokeswoman Luba Samri said on Thursday that men under the age of 50 will be barred from Friday prayers, based on intelligence of plans for unrest, with security forces bolstering their presence in the area.

The decision comes after police clashed with Palestinians at the compound on Tuesday, hours ahead of a debate in the Israeli parliament over a plan to place the holy site under full Israeli jurisdiction.

The discussion, which did not result in a vote or any practical measures, sparked anger in the region, with the parliament of Jordan - the custodian of the site - voting to expel Israel's envoy and its premier warning Amman might review its peace treaty with Israel.

And the 57-member Organization of Islamic Cooperation on Wednesday condemned the debate as a "dangerous escalation," calling it part of Israel's goal to "Judaise Jerusalem."

The flashpoint compound sits above the Western Wall plaza and houses the Dome of the Rock and the Al-Aqsa mosque, and is Islam's third-holiest site.

It is also Judaism's holiest place and considered the site of two Jewish temples.