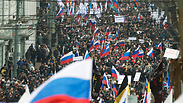 אוקראינה קייב רוסיה חצי האי קרים מוסקבה הפגנות קרמלין צבא חיילים עימות מלחמה
Photo: AP
Ukraine launched a treason case on Sunday against the head of the navy, who surrendered his headquarters on Sunday in the Crimean port of Sevastopol on only his second day on the job.

Denis Berezovsky was shown on Russian television swearing allegiance to the pro-Russian regional leaders of Crimea. Russian forces have seized the Black Sea peninsula and told Ukrainian forces there to give up their weapons.

Related stories:

"During the blockade by Russian forces of the central headquarters of the navy, he declined to offer resistance and laid down his weapons," said Viktoria Syumar, deputy secretary of Ukraine's Security Council.

"The prosecutor's office has opened a criminal case against Denis Berezovsky under statute 111: state treason," she said. Another admiral, Serhiy Hayduk, was placed in charge of the navy.

Earlier, Ukraine said it had withdrawn coastguard vessels from Sevastopol and another Crimean port and stationed them elsewhere.

Russian forces have seized Crimea, an isolated peninsula, where Russia's Black Sea Fleet also has its headquarters. Several units of Ukrainian troops in Crimea have been surrounded, and Russian troops have urged them to give up arms and support the peninsula's pro-Moscow regional authorities.

Ukraine mobilized for war on Sunday and Washington threatened to isolate Russia economically, after President Vladimir Putin declared he had the right to invade his neighbor, creating Moscow's biggest confrontation with the West since the Cold War.

"This is not a threat: this is actually the declaration of war to my country," Ukraine's Prime Minister Arseny Yatseniuk, head of a pro-Western government that took power when Russian ally Viktor Yanukovich fled last week, said in English.

Putin obtained permission from his parliament on Saturday to use military force to protect Russian citizens in Ukraine, spurning Western pleas not to intervene.

Russian forces have already bloodlessly seized Crimea - an isolated Black Sea peninsula where Moscow has a naval base. On Sunday they surrounded several small Ukrainian military outposts there and demanded the Ukrainian troops disarm. Some refused, leading to standoffs, although no shots were fired.

Russia has staged war games with 150,000 troops along the land border, but so far they have not crossed. However, pro-Russian demonstrators have marched in the east of the country and have raised Russian flags over government buildings in several cities, in what Kiev says is a move orchestrated by Moscow to justify a wider invasion.

Ukraine's security council ordered the general staff to immediately put all armed forces on highest alert.

The Defence Ministry was ordered to stage a call-up of reserves - theoretically all men up to 40 in a country with universal male conscription, though Ukraine would struggle to find extra guns or uniforms for significant numbers of them.

US Secretary of State John Kerry condemned Russia for what he called an "incredible act of aggression" and threatened "very serious repercussions".

"You don't just, in the 21st century, behave in 19th century fashion by invading another country on completely trumped-up pretext," Kerry told CBS programme Face the Nation.

Kerry said Moscow still had a "right set of choices" to defuse the crisis. Otherwise, G8 countries and other nations were prepared to "to go to the hilt to isolate Russia".

"They are prepared to isolate Russia economically. The rouble is already going down. Russia has major economic challenges," he said. He mentioned visa bans, asset freezes and trade isolation as possible steps. A Kremlin spokesman declined to comment after Kerry's remarks.
Independence Square
At Kiev's Independence Square, where anti-Yanukovich protesters had camped out for months, thousands demonstrated against Russian military action. Speakers delivered rousing orations and placards read: "Putin, hands off Ukraine!"
"If there is a need to protect the nation, we will go and defend the nation," said Oleh, an advertising executive cooking over an open fire at the square where he has been camped for three months. "If Putin wants to take Ukraine for himself, he will fail. We want to live freely and we will live freely."
Of potentially even greater concern than Russia's seizure of majority ethnic Russian Crimea are eastern swathes of Ukraine, where most ethnic Ukrainians speak Russian as a native language.
Those areas saw more demonstrations on Sunday after violent protests on Saturday, and for a second day pro-Moscow demonstrators hoisted flags at government buildings and called for Russia to defend them. Kiev said Russia had sent hundreds of its citizens across the border to stage the protests.
US President Barack Obama spoke to Putin for 90 minutes by telephone on Saturday after the Russian leader declared he had the right to intervene and quickly secured a unanimous yes vote from his parliament.
According to the Kremlin's account, Putin told Obama Russian speakers were under threat from Ukraine's new leaders, who took over after Yanukovich's security forces fired on huge protests against his rejection of a European trade deal in favour of closer ties with Moscow.
Ukraine, which says it has no intention of threatening Russian speakers, has appealed for help to NATO, and directly to Britain and the United States, as co-signatories with Moscow to a 1994 accord guaranteeing Ukraine's security.
NATO ambassadors met in Brussels to discuss next steps. Secretary General Anders Fogh Rasmussen accused Russia of threatening peace and security in Europe.