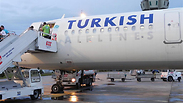 Turkish Airlines plane
Photo: Ziv Reinstein
A Turkish Airlines flight from Istanbul to Mumbai was forced to land in Tehran on Monday after one of the passengers fell ill. For the Israelis onboard, time ground to a halt.

After a prolonged wait on the ground, the airplane returned to air and back on the path to the Far East – with all 20 Israelis still onboard.

A terrifying drama ended peacefully, but the young adults on board will have a thrilling story unlike any other to tell their grandchildren.

Flights of foreign commercial airlines from Israel and to it do not fly in Iranian airspace. In addition, IDF prohibits its people to fly with foreign airlines above enemy states such as the Islamic republic.

Six years ago, a similar event took place, as an Israeli from Rehovot, who also flew to Mumbai on a Turkish Airlines flight, had a rushed, unintended visit to Tehran when the plane experienced a technical malfunction.

"At first I was very concerned, I was scared to death," said the Israeli passenger in Iran. "But they were very nice to me and even invited me to visit Tehran again. I told them, 'Let's make peace, I invite you to come to Jerusalem'."