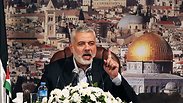 Hamas leader Ismail Haniyeh
Photo: Reuters
An Egyptian court on Tuesday banned all activities of Hamas in Egypt, a judge said, in another sign that security forces plan to squeeze the Palestinian militant group that runs the neighboring Gaza Strip.
Relations between Egypt and Hamas have gone sour after an Egyptian army supported popular uprising resulted in the ouster of former Egyptian president Mohammed Morsi who hailed from the Muslim Brother, of which Hamas is an offshoot.
Following Morsi's ouster, additional political and legal constrictions were imposed on the Muslim Brotherhood and Hamas was declared a terrorist group by Egypt's army-backed government. It has also faced a massive security crackdown since Morsi's July ouster.
"The court has ordered the banning of Hamas work and activities in Egypt," the judge, who asked to remain anonymous, told Reuters.
Egyptian authorities see Hamas a major security threat, accusing the group of supporting al-Qaeda-inspired Islamist insurgents in the Sinai Peninsula, allegations it denies.
The court also ordered the closure of Hamas offices in Egypt, one of the judges overseeing the case told Reuters.
Hamas condemned the ruling, saying it targeted the Palestinian cause. "The decision harms the image of Egypt and its role towards the Palestinian cause. It reflects a form of standing against Palestinian resistance," said Sami Abu Zuhri, a spokesman for the Gaza-based terror organization.
The case was filed by a group of Egyptian lawyers last year asking for Hamas to be banned and be designated as a terrorist organization.
In Gaza, senior Hamas official Izzat Rishq also condemned the ruling, saying the movement viewed it as a "political decision" directed against the Palestinian people and their resistance.
Tuesday's ruling by the Court of Urgent Matters was the result of a case brought before the court by an Egyptian lawyer seeking a verdict branding Hamas a terrorist organization and suspending any dealings with it. The ruling did not directly declare the group a terrorist organization.
Egyptian Foreign Minister Nabil Fahmy, addressing a previously scheduled news conference, said he was not aware of the ruling, but added: "anybody who take any actions that have implications on our security, are of concern to us," he said when asked about when asked about Egyptian-Hamas relations "if u don't take actions, we will treat you as Palestinian nationals."
In addition, Egypt's prosecution accused Morsi and 35 other Muslim Brotherhood members of conspiring to destabilize the country and cooperating with foreign militant groups – including Palestinian Hamas and Lebanon's Hezbollah – in a multitude of trials on charges that carry the death penalty.
Two of those cases involve Hamas members, accused of assisting Morsi and others in escaping from prison in 2011. Morsi and others are also charged in a separate trial of leaking state secrets to Hamas.
When Morsi was in power, Hamas held its secretive internal elections in Egypt in 2012. A top Hamas official, Musa Abu Marzouk, lives in Cairo and may be at risk of arrest by the new court decision.
After crushing the Muslim Brotherhood at home, Egypt's military rulers plan to undermine Hamas, senior Egyptian security officials told Reuters in January. The aim, which the officials say could take years to pull off, includes working with Hamas's political rivals Fatah and supporting popular anti-Hamas activities in Gaza, four security and diplomatic officials said.
Since it seized power in Egypt last summer, Egypt's military has squeezed Gaza's economy by destroying most of the 1,200 tunnels used to smuggle food, cars and weapons to the coastal enclave, which is under an Israeli blockade. It has recenly been reported that Egypt is building a buffer zones between Sinai and the Gaza Strip, a move likely to deal an additional blow to the Hamas-led enclave.
The Associated Press contributed to this report