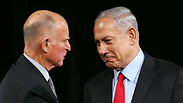 California Governor Jerry Brown and Prime Minister Benjamin Netanyahu
Photo: AFP
WASHINGTON - When Prime Minister Benjamin Netanyahu landed at Los Angeles' international airport on Wednesday, no Israeli diplomats or envoys greeted him upon arriving. A red carpet was laid out by the side of the plane, and two armored cars awaited the Netanyahu family and escorts, however no reception was held on site.

The Israeli consulate workers in Southern California, led by Consul General David Siegel, had prepared Netanyahu's visit to the state for many months, but were instructed to not take part in it due to the ongoing labor dispute within the Israeli Foreign Ministry.

The Israeli diplomats planned several events for the prime minister's visit, including a formal dinner at the home of Arnon Milchan, a well-known Israeli film producer, which was set to be attended by a number of Hollywood stars and leaders of the local Jewish community, as well as feature a video promoting tourism in Israel and.

"This is an extremely important battle over the future of Israeli public diplomacy," said Consul Siegel to Ynet. "The salaries have no been updated in over a decade, and the meaning is that excellent workers cannot live in the United States. Two senior staffers are cutting their mission short this summer and returning to Israel. They can't stay with their families and children in a city like Los Angeles."

"The situation is similar in all the US delegations. Many consulates don't have "number 2's" since no one wants to come. Even the positions in the embassy in Washington, which in the past were highly sought-after, have no competition anymore," Siegel noted.

Ahead of Netanyahu's visit, the diplomats prepared a strategic agreement on which the prime minister and the Governor of California Jerry Brown signed. California's economy is ranked eighth in the whole world and the agreement allows unique access of Israeli companies to the local authorities and to the community of investors in Silicon Valley.

Siegel clarified that the battle is not only economic, but in essence deals with the future of the Israeli foreign service and the quality of Israeli representation around the world. "The threats against Israel are not only on the security level, there are also threats of boycott, Holocaust denial and ties with the Diaspora. The agreement signed by the prime minister and the governor of California is the result of diplomatic work which will create new jobs in Israel," he said.