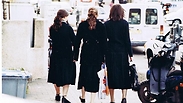 'What is modest clothing? Long sleeves in August? A skirt below the knee?'
Patients reserving an appointment at a Beit Shemesh clinic through the Leumit Health Services website have been receiving a message asking them to "please dress modestly when visiting the clinic."

The HMO management removed the message following a complaint from the secular Israel Hofshit (Free Israel) movement.

Delicate Situation

Poster hung outside women's beauty parlor exposes religious coercion, threats against city's store owners.

"The Leumit HMO thinks its branches are sacred and is demanding, against the law, that its patients arrive in modest clothing," the movement wrote on its Facebook page. "What is modest clothing? Long sleeves in August? A skirt below or above the knee? Tights? A wig? Perhaps a headdress?

"Even Beit Shemesh is part of the State of Israel, and even in Beit Shemesh no one can tell you how to dress – not at the HMO, not at the grocery store, not at the post office and not in any other place. We are demanding that the Leumit HMO delete the offensive message," Israel Hofshit added.
'Legitimate request'
A Leumit official said in response that the branch serves an ultra-Orthodox population only.

Some of the people who commented on Israel Hofshit's Facebook post believe the HMO's request is legitimate.

"All they are asking is to arrive in modest clothing and respect the local population. Are they not even allowed to ask?" someone wrote. "There is no religious coercion here. This clinic apparently serves a population which cares about modesty, and it's their right to ask people to arrive in modest clothing. You, on the other hand, will probably never visit this clinic, so why meddle?"

"There is a huge difference between asking people to protect and respect the way of life in a place and intentionally hiding women," another woman added.

The HMO offered the following comment: "Leumit Health Services offers its services to all its policyholders in Israel in 340 medical centers regardless of their religion, race and gender. This is a neighborhood clinic in a clear ultra-Orthodox area in Beit Shemesh, and the clinic's manager included the message following appeals from the neighborhood residents. The management has instructed him to remove the note immediately."