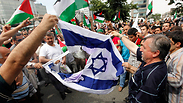 Anti-Gaza blockade protest. Archive
Photo: Reuters
A group of activists trying to reach Gaza were denied entry to Egypt and some were even being deported, in an additional sign of deteriorating relations between Egypt and Gaza Strip rulers Hamas who were recently outlawed in the Arab world's most populous nation.

More than 40 women on their way to Gaza as part of a delegation for World Women's Day staged a sit-in inside the Cairo International Airport after being refused entry into the country since Tuesday, airport officials in Egypt and activists said Thursday.



Code Pink protest calls for boycott of Israeli company Ahava (courtesy of Code Pink)

Among the participants from the US-based anti-war group Code Pink's delegation are US, French and Belgium citizens.

Ann Wright, the US delegation's organizer, said Thursday that a few activists have elected to return home, while at least three activists had been deported, including Mairead Maguire, a 1976 Nobel Peace Prize laureate.

Medea Benjamin, an American activist, said Egyptian police fractured her shoulder when she refused to board a plane to Turkey, and even snapped a picture of her cell which she posted to Twitter.
This is my cell in Cairo airport pic.twitter.com/ogIaXTvJvh

— Medea Benjamin (@medeabenjamin) March 4, 2014
Related stories:

Wright said the group had planned to take a bus from Cairo to the Rafa crossing and walk across the border. Egypt's border with Gaza has been closed since last month as authorities combat smuggling and Islamic militants in the Sinai Peninsula. Relations between Egypt and Gaza also remain tense after the military ouster of Islamist President Mohammed Morsi in July.

On Tuesday, an Egyptian court banned all activities of the Palestinian militant group Hamas and ordered the closure of any Hamas offices.

Hamas, which rules the neighboring Gaza Strip, is the Palestinian branch of Morsi's Muslim Brotherhood group.

Authorities accuse Hamas, in cooperation with the Brotherhood, of training and arming the al-Qaeda -inspired group Ansar Beit al-Maqdis, which has carried out a string of bombings and attacks on police and the military. The Brotherhood and Hamas both deny the accusation.

Egyptian airport and foreign ministry officials denied that the activists had been denied entry for any reason other than security concerns.

In a statement, Foreign Ministry spokesman Badr Abdel-Attie said that the group had not been allowed to travel to Gaza through Egypt because they did not have the proper licensing.

Abdel-Attie said that the security situation in the Northern Sinai Peninsula is too precarious for Egypt to secure the passage of the large group, due to government operations against "terrorist groups" there. He said the group had contacted the Egyptian government before traveling, and that officials told the group to delay the trip until things had quieted down.

Hamas spokesman Fawzi Barhoum said in a statement that Egypt's latest decision to prevent the activists from traveling to Gaza was "a big step backward in Egypt's support of the Palestinian cause and the Gazan cause in particular."