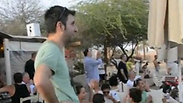 Curious spectators watch the arrival of the KLOS C (Photo: Meir Ohayon)
Photo: Meir Ohayon
Hundreds of people, including tourists, were gathered near the Port of Eilat to watch the arrival of the Iranian weapons ship Klos C, as well as the IDF missile boats INS Hanit and INS Hetz that accompanied it, with applause and warm greetings: "Well done IDF and the Navy!"
Spectators watch the arrival of the KLOS C (צילום: מאיר אוחיון)
As soon as the arrival date of the ship became known, the people of Eilat settled in nearby beaches and hills documenting the arrival moment of the ship and navy boats on their mobile phones. Eilat resident Giora Shukrun arrived to Dekel Beach in the city to get a good vantage point: "This is a true moment of pride to Israel and I am very excited and proud of my country."
Related stories:
Local Israelis were not the only ones cheering, many tourists were also there to witness the exciting event and were sharing the pride and excitement of the moment that marked the end of a successful operation. "You have a strong army, well done," said a tourist from the Netherlands.