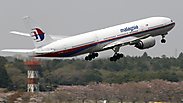 מטוס ג'מבו בואינג מלזיה סין
Photo: AP
Foreign ministry officials in Rome and Vienna confirmed Saturday that names of two nationals listed on the manifest of the missing Malaysia Airlines flight match passports reported stolen in Thailand.

Neither European was on the plane, which disappeared Saturday less than an hour after it took off from Kuala Lumpur bound for Beijing, officials said. The Italian was traveling in Thailand and the Austrian was located in his native country.

The father of the Italian man told The Associated Press that his son's passport had been stolen about a year and a half ago while traveling in Thailand.

Related stories:

"He deposited it with rental car agency, and when he returned the car it was gone," Walter Maraldi said by telephone from his home in the northern Emilia-Romagna region.

The Italian man had a new passport issued in Thailand to continue his trip, his father said. The Italian Interior Ministry issued a statement that the man also reported it stolen on August 1, 2013, after his return to Italy, and that the stolen document had been entered into the Interpol database.

Walter Maraldi said authorities could not tell him whether the stolen passport or a counterfeit copy was used by a passenger to board the aircraft.

The father said his son Luigi Maraldi, 37, called his parents from Thailand to tell them he was fine after hearing news reports that an Italian with his name was on board the missing airplane.

Austrian Foreign Ministry spokesman Martin Weiss confirmed that a name listed on the manifest matches an Austrian passport reported stolen two years ago in Thailand. Weiss would not confirm the Austrian traveler's identity.

"We have no information on who might have stolen the passport," Weiss said.