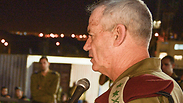 Gantz in Eilat
Photo: IDF Spokesperson's Unit
As the Gaza-bound Iranian arms shipment captured last week reached Israel, IDF Chief of Staff Benny Gants praised the soldiers involved in the mission, but stressed that the IDF's work was far from over.

Iranian weapons ship Klos C arrived at the Eilat Port Saturday accompanied by Israeli Navy ships INS Hanit and INS Hetz. The ship was captured early Wednesday morning ferrying Syrian-made M-302 rockets bound for the Gaza Strip in a mid-sea raid not far from the Port of Sudan.

Gantz arrived in the Red Sea port city of Eilat Saturday evening and met with the navy soldiers who conducted the operation and led the ship to Israel.

Regarding the ship's cargo, Gantz noted that such arms still pose a threat for Israel. "Each and every rocket here is a security challenge for Israel and its citizens. Every rocket and every bullet we found has an address."

Praising the army for successfully completing the operation, Gantz said: "This mission involved many long term maneuvers by the IDF. It demanded each and every one of you give everything you have over a long period at sea, and the result is before you now."

Related stories:

The IDF chief explained that there was still much work to be done. "Our struggle to block critical and strategic elements from (strengthening our enemies) has not ended with our return to our home shore. We most organize the equipment and continue to work – we still face many missions."

Afterwards Gantz was scheduled to fly to New York to participate in a fundraiser for Friends of the IDF (FIDF). His deputy, Lieutenant-Colonel Gadi Eizenkot, who was released Sunday from the hospital after feeling heart pain, will replace Gantz while he is abroad.

Hundreds of people, including tourists, greeted the soldiers who arrived with the Iranian weapons ship Klos C with applause and warm greetings: "Well done IDF!"

Following the unloading of the of the Iranian arms ship Klos C at the Eilat port, the IDF deployed an Iron Dome missile battery in the area. The decision came after a tactical assessment conducted by the IDF over the weekend.

On Monday, Prime Minister Benjamin Netanyahu, as well as senior officials and foreign diplomats, will attend the unveiling of the missiles seized from the Gaza-bound ship.