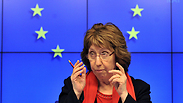 Catherine Ashton
Photo: AFP
Prime Minister Benjamin Netanyahu urged Catherine Ashton to question Iranian leaders about the recently seized arms shipment to Gaza during her visit to Tehran.

"I would like to ask her if she asked her hosts in Tehran about weapons deliveries to terror organizations, and if she didn't ask, why?" said Netanyahu at the beginning of the weekly cabinet meeting in Jerusalem.

Ashton arrived in Tehran on Saturday for a two-day visit - the first by an EU foreign policy chief since 2008 - during which she said a wide range of issues, including bilateral ties and regional conflicts, will be discussed.

The Iranian weapons ship Klos C was captured early last Wednesday morning ferrying Syrian-made M-302 rockets bound for the Gaza Strip in a mid-sea raid not far from the Port of Sudan.

The prime minister turned to the international community to recognize the true intentions of the Iranian nuclear program: "Nobody has the right to ignore the true and murderous actions of the regime in Tehran. I think that it would be proper for the international community to give its opinion regarding Iran's true policy, not its propaganda."

According to the prime minister, the arms shipment "expose Iran's real face."

Israel is preparing a public display of the cargo, said to include advanced rockets, hoping to pressure world powers as they negotiate with Tehran. Officials in Iran and Gaza have denied any connection to the shipment.

European Union foreign policy chief Catherine Ashton met with Iranian Foreign Minister Mohammad Javad Zarif in Tehran Sunday to discuss the on-going negotiations over the landmark nuclear deal achieved between world powers and Iran.

Related stories:

"The interim deal is really important but not as important as a comprehensive nuclear agreement ... which is difficult and challenging," Ashton told a joint news conference with Zarif, broadcast on state TV.

"There is no guarantee we'll succeed," she further told reporters.

Zarif said Iran will only accept a deal that respects its "rights," a reference to uranium enrichment on its soil.

Ashton arrived in Tehran to discuss issues including Iran's disputed nuclear program, before another round of talks between Iran and world powers, Iranian media reported.

She is expected to meet with leading Iranian figures, including President Hassan Rouhani, according to state-run IRNA news agency.

Iranian state media and newspapers have given high importance to Ashton's visit, with some reformist media calling it "an achievement" for pragmatist President Rouhani, who won a surprise election in June on a platform of more openness towards the West.
Landmark nuclear deal
Iran and six world powers, represented by Ashton, reached an interim deal in Geneva in November aimed at ending a decade-old dispute over Tehran's nuclear activities.

"Naturally, the nuclear issue will be discussed during Mrs. Ashton's visit," Iranian state television showed Deputy Foreign Minister Abbas Araqchi saying.

Seeking to build on the interim accord, which took effect on January 20, Iran and the six powers aim to hammer out a final deal by late July. The next round of the high-level talks between Iran and the P5+1 will be held in Vienna on March 17.

The six powers' overarching goal is to extend the time Iran would need to make enough fissile material and assemble equipment for a nuclear bomb, and to make such a move easier to detect.

Iran has won limited relief of sanctions in exchange for curbing its most sensitive nuclear work under the Geneva deal but demands a full halt to all EU, US and international sanctions to end years of isolation and revive its battered economy.

Reuters and the Associated Press contributed to this report