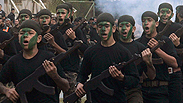 Hamas training camp in Gaza
Photo: MCT
Fatah activists say troops from the rival Palestinian movement Hamas broke up a Fatah gathering in the Gaza Strip, beating participants.

It was the most violent clash in months between Fatah and the Islamic militant Hamas, which seized Gaza from Fatah's leader, Palestinian President Mahmoud Abbas, in 2007.

The incident signaled continued hostility between Hamas and Fatah despite reconciliation attempts. It also suggested Hamas is on edge as it struggles to survive an Egyptian border closure.

Related stories:

Iyad al-Bozoum of the Gaza Interior Ministry said Sunday that troops broke up an indoor gathering of dozens of Fatah activists in the town of Khan Younis Saturday evening because they didn't have a permit.

"A group of Fatah supporters organized an activity in Khan Younis without contacting police for approval, and that is a breach of the law and obvious attempt to bring security chaos back," said Hamas official al-Bozoum.

Al-Bozoum further highlighted that Fatah supporters had "attacked police officers who arrived to enforce the law," Palestinian news agency Ma'an reported,

Fatah spokesman Hassan Ahmed says Hamas security beat and briefly detained participants "for no reason" during the ceremony, which was held to commemorate "martyrs who fell during the Intifada."

According to Ma'an, Islam Shahwan, a spokesman for Gaza's interior ministry, said that "around 20 people were detained and later released after signing a document not to take part in unauthorized meetings."

The two rival Palestinians factions relations began deteriorating in 2006, when Hamas won the Palestinian legislative elections. The relations took a turn for the worst in the following year, when Hamas violently ousted Fatah from Gaza, leaving a divided Palestinian leadership, with Hamas in control of the Gaza Strip and Fatah in control of the West Bank.

The groups have made multiple failed attempts at reconciliation for years, Ma'an reported, most recently in 2012, when they signed two yet-unimplemented agreements in Cairo and Doha.