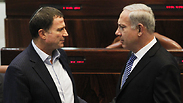 Netanyahu and Edelstein
Photo: Atta Awisat
A last-ditch effort by Prime Minister Benjamin Netanyahu tried, with the help of Knesset Chairman Yuli Edelstein and Coalition Chariman Yariv Levin, to prevent a boycott of parliamentary discussions around three controversial bills.

The threat of boycott was imposed by the opposition after Ynet revealed a document Sunday by which coalition party leaders have been ordered to vote in favor of the three sensitive pieces of legislation that have been lumped together to be presented in the Knesset this week.

It is the last week of the winter session in the Knesset, and heated debate was expected. But if Netanyahu's compromise effort fails, the parliamentary plenum could have sparse attendance when three bills with immense implications for the country are passed in a second and third reading.

Related stories:

After the opposition parties united behind the threat of boycott, Edelstein – in coordination with Netanyahu – offered an additional day of discussion for the three critical proposals: the governance bill, the haredi draft bill, and the referendum bill.

Edelstein also offered to re-open the agenda to the opposition, allowing their factions to decide how much time is dedicated to discussion on each proposal. Opposition officials said they could consider the offer, but that the factions are likely to reject the compromise.

"The two sides went in opposite directions. The coalition has started to come around, now it's the opposition's turn," said Edelstein.

Labor Chairman, MK Eitan Cabel, was not comforted by the compromise gesture: "The offer was presented to us a moment too late. It's obvious to us that this was done to protect their interests and not ours. The fact that they're now willing to postpone discussions for a day shows that nothing is sacred in these proposals. This struggle is not about procedure, it's about democracy."

Barring any surprises, Israel will have three new laws by the end of the week. Each one a project of a different faction in the coalition: Yisrael Beiteinu's governance bill, Yesh Atid's haredi draft bill, and the referendum bill led by Coalition Chairman Yariv Levin (Likud).
3 controversial bills
The governance bill is designed to make it difficult to overthrow a government and limits, among other things, the opposition's ability to express non-confidence in the acting cabinet. The bill also raises the electoral threshold to 3.25% and limits the number of ministers in the cabinet.

The IDF haredi draft bill, which was the result of a prolonged and complex political process, deals with the issue of burden equality and the recruitment of haredim and yeshiva students. The bill exempts 22-year-old Yeshiva students from army service and instates a gradual process of young haredi draft until the year 2017.

The referendum bill demands public approval for transfer of territories under Israeli sovereignty in the framework of political negotiations. The law was amended to a basic law, and now requires a majority of 61 MKs in order to change it.