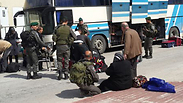 IDF soldiers at the site of the shooting at the Allenby bridge.
Photo: Courtesy Israel Airports Authority
A Palestinian was shot dead Monday morning after he tried to attack an IDF soldier and snatch his rifle at the Allenby border crossing.
An initial investigation of the incident found that a group of Palestinians got off a bus that stopped at the Israeli side of the crossing for a security check. One man then ran towards IDF soldiers securing the passing, yelling "Allahu Akhbar" and trying to snatch the weapon from them.
A statement from Prime Minister Rami Al-Hamdallah's office identified the man as Raed Alaa el-Deen Za'eiter, 38, a West Bank-born judge working in Jordan.
An Israeli military official said the military were checking the reports about the man's identity.
Engineering corps soldiers at the border crossing started an arrest procedure according to the rules of engagement that included shooting at Za'eiter's legs to try to stop him, at which point he attempted to choke a soldier, and was shot to death.
Related stories:
Following the incident, the IDF closed the border crossing that connects the West Bank and Jordan.
Shooting incidents such as Monday's at the Allenby crossing are rare on the West-Bank-Jordan border.
AP contributed to this report.